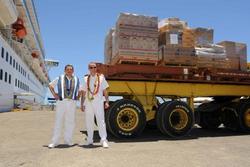 random acts of kindness and love
Santa Clarita, Calif. (Vocus) October 15, 2009
When Star Princess and Sun Princess called in Apia, Samoa and Pago Pago, American Samoa this past weekend, the ships brought along some much needed relief supplies and more than $10,000 in donations for the region that was recently hit with a powerful tsunami.
The ships off-loaded pallets of bottled water, sugar, flour, linens and clothing donated by passengers and crew, plus treats of candy and chocolate for the children. In addition, in Pago Pago, both ships welcomed Red Cross relief workers onboard for some relief of their own, with hot showers, use of the ships' laundries, phone calls home and lunch.
The ship captains conveyed the heartfelt sympathy and support of Princess crew and passengers for the people of Samoa during this difficult time, and informed local officials that the Princess Cruises Community Foundation is donating $10,000 to the Red Cross for relief efforts in Samoa and American Samoa.
The ships also conducted their own fundraising for the relief efforts, including donations from their Crew Club funds, contributions received from passengers and crew, and money raised from auctions of the ships' navigational charts used during the cruises.
In Apia, the Honorable Misa Telfoni, the minister of tourism and deputy prime minister, was touched by the generosity of Princess Cruises. He made particular mention of the Princess crew and their donation which he described as "random acts of kindness and love" which would greatly assist in the recovery and renewed growth of the area.
Additional information about Princess Cruises is available through a professional travel agent, by calling 1-800-PRINCESS, or by visiting the company's website at http://www.princess.com.
Princess can also be found on:
Facebook: http://www.facebook.com/PrincessCruises
Twitter: http://twitter.com/PrincessCruises
Flickr: http://www.flickr.com/photos/princesscruises/
About Princess Cruises:
One of the best-known names in cruising, Princess Cruises is a global cruise and tour company operating a fleet of 17 modern ships renowned for their innovative design and wide array of choices in dining, entertainment and amenities, all provided in an environment of exceptional customer service. A recognized leader in worldwide cruising, Princess offers its passengers the opportunity to escape to the top destinations around the globe, with sailings to all seven continents, ranging in length from seven to 107 days. The company is part of Carnival Corporation & plc (NYSE/LSE:CCL; NYSE:CUK).
Princess Cruises is a proud member of World's Leading Cruise Lines. Our exclusive alliance also includes Carnival Cruise Lines, Holland America, Cunard Line, Costa Cruises and The Yachts of Seabourn. Sharing a passion to please each guest, and a commitment to quality and value, our member lines appeal to a wide range of lifestyles and budgets. Together we offer exciting and enriching cruise vacations to the world's most desirable destinations.
For further information contact:
Karen Candy, 661-753-1540
Julie Benson, 661-753-1530
News, background information and photography are always available in our online newsroom.
###