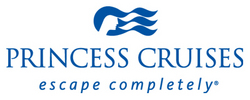 outstanding record in safeguarding the environment and protecting the air and water quality of San Francisco Bay during their port calls.
Santa Clarita, Calif. (Vocus) May 25, 2010
Three Princess Cruises ships -- Sapphire Princess, Sea Princess and Star Princess -- have just been named as gold-level winners of the Port of San Francisco 2009 Cruise Ship Environmental Award. The awards honor the ships' "outstanding record in safeguarding the environment and protecting the air and water quality of San Francisco Bay during their port calls." This is the fifth year Princess ships have earned this prestigious distinction.
The annual award recognizes the vessel for demonstrating ''the strong environmental commitment of Princess Cruises in the areas of air emission reduction, waste water treatment, and recycling and disposal programs for solid waste.'' The honors are determined by San Francisco's Cruise Terminal Environmental Advisory Committee (CTEAC), which operates a program to recognize cruise lines that are committed to environmentally responsible operations, include the deployment of ships using reduced emission system technology or cleaner-burning fuel.
The San Francisco awards follow on the heels of other environmental honors earned from ports where Princess ships call, including the Venice Blue Flag, recognizing the line's commitment to reducing polluting emissions by burning cleaner fuels, plus the Port of Los Angeles Vessel Speed Reduction Recognition Flag for actions to reduce air emissions.

The Venice Blue Flag is awarded for the line's efforts to safeguard the city of Venice, Italy, by burning low sulfur fuel in port to reduce air emissions. The flag recognizes ship companies who make a commitment to preserve this unique city and its historic monuments. This was the second year Princess has been honored with this flag. Four Princess ships -- Royal Princess, Ruby Princess, Crown Princess and Grand Princess called in Venice in 2009.
The Vessel Speed Reduction Flag recognizes Princess ships based at the Port of Los Angeles for following reduced speeds while entering and leaving the port as part of an effort to reduce air emissions. Princess was the only cruise line to earn this award, with all three home-ported vessels -- Sapphire Princess, Golden Princess and Coral Princess -- commended for 100 percent compliance in following the reduced speeds.
"We are gratified that our environmental efforts are being recognized in many different ways in places around the world," said Jan Swartz, Princess Cruises executive vice president. "We make our living taking people to beautiful destinations. We're committed to doing our part to make sure they stay that way."
Princess Cruises is committed to environmental practices which set a high standard for excellence and responsibility, and which help preserve the marine environment in which its ships operate. The company's environmental goals and policies go beyond what is required by law and include a zero solid waste discharge policy, state-of-the-art environmental technology and waste management equipment, programs to minimize waste generated, and recycling where possible. The company also pioneered the use of shore power programs in the cruise industry to reduce air emissions.
Additional information about Princess Cruises is available through a professional travel agent, by calling 1-800-PRINCESS, or by visiting the company's website at http://www.princess.com .
About Princess Cruises:
One of the best-known names in cruising, Princess Cruises is a global cruise and tour company operating a fleet of 17 modern ships renowned for their innovative design and wide array of choices in dining, entertainment and amenities, all provided in an environment of exceptional customer service. A recognized leader in worldwide cruising, Princess offers its passengers the opportunity to escape to the top destinations around the globe, with sailings to all seven continents, ranging in length from seven to 107 days. The company is part of Carnival Corporation & plc (NYSE/LSE:CCL; NYSE:CUK).
Princess Cruises is a proud member of World's Leading Cruise Lines. Our exclusive alliance also includes Carnival Cruise Lines, Holland America, Cunard Line, Costa Cruises and The Yachts of Seabourn. Sharing a passion to please each guest and a commitment to quality and value, World's Leading Cruise Lines inspires people to discover their best vacation experience. Together, we offer a variety of exciting and enriching cruise vacations to the world's most desirable destinations. Visit us at http://www.worldsleadingcruiselines.com .
Princess can also be found on:
Facebook: http://www.facebook.com/PrincessCruises
Twitter: http://twitter.com/PrincessCruises
YouTube: http://youtube.com/princesscruises
Flickr: http://www.flickr.com/photos/princesscruises
For further information contact:
Karen Candy, kcandy(at)princesscruises(dot)com, 661-753-1540
Julie Benson, jbenson(at)princesscruises(dot)com, 661-753-1530
News, background information and photography are always available in our newsroom at http://www.princess.com/news .
###