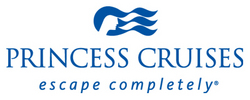 Santa Clarita, Calif. (Vocus) April 21, 2010
Princess Cruises has launched a new "World of Savings" promotion today that offers customers significant discounts on select 2010 voyages to many of the line's worldwide destinations, including cruises to Asia & Africa, Canada & New England, the Caribbean, Europe, Hawaii & the South Pacific and the Panama Canal. The promotion runs through May 31 and features savings of up to $1,000 per couple off Launch Fares.
"Princess ships cover the globe, and these new savings give passengers a compelling opportunity to experience first-hand why Princess is the industry's destination leader," said Jan Swartz, Princess Cruises executive vice president.
Examples of World of Savings starting fares include:

Asia & Africa – 15 days from $1,599 per person
Canada & New England – seven days from $549 per person
Caribbean – seven days from $499 per person
Europe – seven days from $1,099 per person
Hawaii & South Pacific – 10 days from $1,099 per person
Panama Canal – 10 days from $899 per person
The World of Savings promotion is available to residents of the United States, Canada, Puerto Rico, and Mexico. Additional information about the promotion is available at http://www.princess.com/worldofsavings.page
Additional information about Princess Cruises is available through a professional travel agent, by calling 1-800-PRINCESS, or by visiting the company's website at princess.com.
About Princess Cruises:
One of the best-known names in cruising, Princess Cruises is a global cruise and tour company operating a fleet of 17 modern ships renowned for their innovative design and wide array of choices in dining, entertainment and amenities, all provided in an environment of exceptional customer service. A recognized leader in worldwide cruising, Princess offers its passengers the opportunity to escape to the top destinations around the globe, with sailings to all seven continents, ranging in length from seven to 107 days. The company is part of Carnival Corporation & plc (NYSE/LSE:CCL; NYSE:CUK).
Princess Cruises is a proud member of World's Leading Cruise Lines. Our exclusive alliance also includes Carnival Cruise Lines, Holland America, Cunard Line, Costa Cruises and The Yachts of Seabourn. Sharing a passion to please each guest and a commitment to quality and value, World's Leading Cruise Lines inspires people to discover their best vacation experience. Together, we offer a variety of exciting and enriching cruise vacations to the world's most desirable destinations. Visit us at worldsleadingcruiselines.com.
Princess can also be found on:
Facebook: http://www.facebook.com/PrincessCruises
Twitter: http://twitter.com/PrincessCruises
YouTube: http://youtube.com/princesscruises
Flickr: http://www.flickr.com/photos/princesscruises
For further information contact:
Carol Maglione, cmaglione(at)princesscruises(dot)com, 661-753-1540
Julie Benson, jbenson(at)princesscruises(dot)com, 661-753-1530
News, background information and photography are always available in our newsroom at princess.com/news.
###