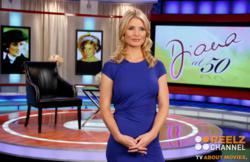 This is a tribute to Diana that will take viewers on an intimate journey through her life, told by those who knew her best.
Albuquerque, NM (PRWEB) August 18, 2011
REELZCHANNEL—TV About Movies® today announced it will air an hour-long special exploring the life and legacy of Diana, Princess of Wales titled "Princess Diana at 50". Hosted by celebrity journalist and former Extra host Dayna Devon, REELZCHANNEL gathered a collection of confidantes, friends and observers who were eyewitnesses to her extraordinary life to talk about their time with Diana and what her life would've been like today. Watch the primetime premiere on Saturday, August 27 at 7pm ET/ 4pm PT.
"This is a tribute to Diana that will take viewers on an intimate journey through her life, told by those who knew her best," said Steve Holzer, Executive Producer of REELZCHANNEL Original Programming. "These people – including the butler who arguably knew her best, the designer of perhaps the most famous wedding dress in history and the man who wrote the definitive biography of her life - share extraordinary anecdotes and highly personal stories that give new insight into one of the most beloved and important women of our time."
London-based REELZCHANNEL correspondent Adrian Dickson interviewed an internationally recognized roster of those closest to the late Princess:
Paul Burrell—The butler, confidant and friend. His career began in service to Her Majesty Queen Elizabeth II, only to be requested personally by Diana to run her household after she married Prince Charles. Burrell quickly became a confidant to the late Princess and now tells that story to REELZCHANNEL, saying "She would want me to tell her story. She would want me to defend her."
Elizabeth Emanuel—International clothing designer who along with her husband David created Diana's famous wedding dress. Elizabeth takes us through her personal scrap books and tells the tale of how 'Shy Di' became an international fashion figure in part due to the Emanuels and the dress, which even Elizabeth will admit, "You love the dress or hate the dress. But the dress is now iconic."
Andrew Morton—Journalist and author (Diana: Her True Story in Her Own Words) In an unprecedented move, Diana gave Morton carte blanche to her friends and stories. Through him, her life quite literally became an open book. His story as told to REELZCHANNEL is both captivating and insightful. Just why did she need to tell all?
Joan Lunden—Former Good Morning America co-host who covered the wedding of Diana and Charles talks candidly about the moment the fairy tale began…and takes a critical look at that dress.
Michael Cole—Royals Insider who covered the Royal family as a journalist and became the spokesperson for the al Fayed family. Cole opens up about what he knows about the relationship between Diana and Dodi al Fayed. Were they in love? Would they have married? Were they murdered? Cole knows and is willing to speak.
Bruce Oldfield—International couturier who was chosen by Vogue to submit various pieces for the soon to be Princess of Wales. And it was fashion fate. He went on to be one of Diana's favorite designers and went on to create some of her most memorable looks. Oldfield talks about Diana's fashion sense and his time with the late Princess.
David Ginola—Soccer legend and spokesperson for the International Red Cross landmine eradication campaign. He quite literally put his life on the line to fill the shoes of the late Princess by picking up the anti-landmine cause after the Princess' tragic death. He talks for the first time of his admiration for Diana and tells in detail about the dangers and emotional experiences both he and Diana faced after becoming involved with landmine eradication.
Jennie Bond— BBC International Royals Correspondent, she covered the life of Diana, Princess of Wales, from the wedding to her funeral. Along the way, she and the Princess became 'professional' friends and shared many personal moments. Bond's point of view is not just reportage but anecdotal and personal.
Encore presentations:
Saturday, August 27
9:30am ET/ 6:30am PT
10pm ET and at 10pm PT
Sunday, August 28
9am ET/ 6am PT
6pm ET/ 3pm PT
11pm PT/ 2am ET
Monday, August 29
12am PT/ 3am ET
Tuesday, August 30
5:30pm ET/ 2:30pm PT
Wednesday, August 31
1pm ET/ 10am PT
Thursday, September 1
12am PT/ 3am ET
About REELZCHANNEL
REELZCHANNEL—TV About Movies® is the only cable and satellite network devoted to delivering entertaining and informative programming that is all about movies, including the celebrities, fashion, music and stories behind the stories. With shows featuring movie and entertainment experts, including Leonard Maltin, Richard Roeper, Sam Rubin and John Salley, viewers get trusted insight into movies wherever they're playing, whether in theaters or at home.
REELZCHANNEL reaches more than 58 million homes on DIRECTV channel 238, Dish Network channel 299, Verizon FiOS TV channel 233, AT&T U-verse channels 799/1799HD and cable systems nationwide. Find REELZCHANNEL in your area by entering your zip code at http://www.reelz.com/watch. Owned by Hubbard Media Group, REELZCHANNEL is headquartered in Albuquerque, NM with an entertainment bureau in Los Angeles and sales office in New York.
For more information, please contact the REELZCHANNEL Media Line
877- REELZTV (733-5988) / pr(at)reelz(dot)com
Attached photo courtesy of REELZCHANNEL
# # #