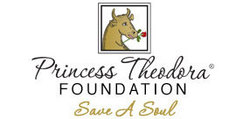 Many animals are neglected, abused or abandoned and desperately in need of shelter, proper care and most importantly, love." Princess Theodora Von Auersperg.
New York, NY (PRWEB) February 23, 2010 –
Princess Theodora, maker of fine skin care products, is proud to announce the launch of the Princess Theodora Foundation, a philanthropic endeavor to support the humane treatment of animals and animal rescue operations. The mission of the foundation, 'Save a Soul,' is to help provide resources for the care and feeding of animals by donating ten percent of Princess Theodora's product sales and all proceeds from the foundation's fund raising events and promotions to selected charities.
"Many animals are neglected, abused or abandoned and desperately in need of shelter, proper care and most importantly, love," said Princess Theodora Von Auersperg. "I hope to raise awareness and as much funds as possible through my foundation for several fine organizations that save and nurture these poor animals. We all are put here for a higher purpose, and ours is to help provide care for creatures that cannot care for themselves."
In addition, the company has set up the Princess Theodora Scholarship Fund to help fund students in veterinary school. In cooperation with local shelters, the company is giving dedicated young people scholarship opportunities in exchange for working in animal shelters after graduation.
Princess Theodora is a recently launched exclusive skin care line. This unique brand of mostly organic and vegan skin care products, is made from the finest and purest botanicals available from nature. With the promise to always honor and respect nature and its creatures, all Princess Theodora products are not tested on animals.
About Princess Theodora
Princess Theodora Von Auersperg was born into a 21st century family of Austrian nobility. For many years Princess Theodora had a desire to create the best possible cosmetic product line and began to research the organic elements that she hoped would soothe her own very sensitive skin. She discovered that women today benefit most from the same natural ingredients used exclusively by the nobility of ancient times -- the purest and finest botanicals and nutrient-rich rose oil and rose water. After three years of research and product testing, Princess Theodora found the perfect blend, and is sharing the beauty secrets of the rose with those in search of their own Inner Princess. For more information, please visit http://www.princesstheodora.com.
###