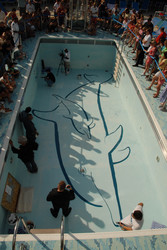 This is certainly one of the most unusual ways we've ever painted a pool
Santa Clarita, CA (Vocus) August 20, 2009
As Ruby Princess approached Venice this afternoon, passengers aboard the Princess Cruises ship were treated to a special live art event as famed marine life artist Wyland painted an unusual canvas - the bottom of the ship's Neptune Pool.
Known worldwide for his unique works featuring sea animals, Wyland is aboard the ship for special art events and meet and greets with passengers. However, painting the ship's pool was not on his original agenda. Ruby Princess Captain Tony Draper suggested the idea to the artist after being inspired by watching ship crew members painting the Princess "seawitch" logo on the bottom of the ship's other main pool.
A first for the cruise line, Wyland agreed to paint the mother dolphin and her baby as a way to increase awareness of his conservation message. Passengers were invited to follow along with a live top-deck event hosted by the ship's cruise director, including live video of the painting in progress broadcast on the ship's Movies Under the Stars screen.
"This is certainly one of the most unusual ways we've ever painted a pool," said Jan Swartz, Princess executive vice president. "But it's a wonderful way to work with Wyland to address our shared concern with the importance of marine conservation, and to give our passengers a unique experience as they witnessed a one-of-a-kind artwork taking shape."
Passengers were able to enjoy watching the artist at work just prior to the ship's arrival into the Venice canal system.
Marine life artist Wyland is an accomplished painter, sculptor, photographer, writer and SCUBA diver. His non-profit Wyland Foundation has supported numerous conservation programs since 1993, including the monumental Whaling Wall mural project - an epic series of more than 100 life-size marine life murals that spans 14 countries on four continents and is viewed by an estimated 1 billion people every year.
Wyland and Princess Cruises have a long-time association. Many Princess ships incorporate his sculptures in the swimming pool areas, and are featured in his latest book "100 Whaling Walls." Wyland's artwork is also featured in the ships' onboard art galleries.
Ruby Princess is currently sailing on 12-day Grand Mediterranean voyages between Barcelona and Venice, with calls at Monte Carlo, Florence/Pisa, Rome, Naples/Capri, Mykonos, Istanbul, Kusadasi, and Athens.
Photos of Wyland at work are available at: http://www.flickr.com/photos/princesscruises/sets/72157621962996169/
Additional information about Princess Cruises is available through a professional travel agent, by calling 1-800-PRINCESS, or by visiting the company's website.
Princess can also be found on:
Facebook: http://www.facebook.com/PrincessCruises
Twitter: http://twitter.com/PrincessCruises
About Princess Cruises:
One of the best-known names in cruising, Princess Cruises is a global cruise and tour company operating a fleet of 17 modern ships renowned for their innovative design and wide array of choices in dining, entertainment and amenities, all provided in an environment of exceptional customer service. A recognized leader in worldwide cruising, Princess offers its passengers the opportunity to escape to the top destinations around the globe, with sailings to all seven continents, ranging in length from seven to 107 days. The company is part of Carnival Corporation & plc (NYSE/LSE:CCL; NYSE:CUK).
Princess Cruises is a proud member of World's Leading Cruise Lines. Our exclusive alliance also includes Carnival Cruise Lines, Holland America, Cunard Line, Costa Cruises and The Yachts of Seabourn. Sharing a passion to please each guest, and a commitment to quality and value, our member lines appeal to a wide range of lifestyles and budgets. Together we offer exciting and enriching cruise vacations to the world's most desirable destinations.
For further information contact:
Karen Candy, 661-753-1540
Julie Benson, 661-753-1530
News, background information and photography are always available in our online newsroom.
###