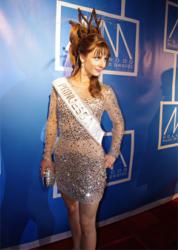 Princess X makes a new fashion statement with fiber optic hair crown!
Hollywood, CA (PRWEB) November 21, 2011
Princess X made a new fashion statement at the 2011 HMMA Hollywood Music in Media Awards held on November 17th. The best dance song nominee walked the Red Carpet wearing a crown made of real hair and fiber optics that lighted up in green, blue, white and pink. Hollywood has never seen such a hairstyle before!
"It took my hairstylist the whole day to make just the crown," said Princess X in her interview, "I didn't eat lunch because of that." What a sacrifice for beauty!
Princess X added a unique element to the Jovani sheer sequin dress (#7757) worn by Katy Perry and Kelly Kelly: an elegant sash with rhinestones and silver embroidery PRINCESS X matched the crystals on her dress and slated the name of the nominee. Indeed, fashion can be functional.
The Bebe crystal embellished minaudiere from the new 2012 collection of clutches completed the sparkling outfit of Princess X. This ensemble along with the fiber optic hair crown would make a perfect pageant wear!
Princess X's eye makeup with Swarovski crystals is a wonderful choice for girls who want to add a pop color and sparkle to makeup. Green crystals are great to outline green and blue eyes. Emerald green eyeliner on the lower lash combined with green crystals in outer corners of the eyes creates a cat's eye look, which is the hottest trend for winter 2012 makeup. Princess X cat's eyes with crystals is an ideal makeup for Christmas and New Year's Eve. If you also add fiber optics to your hair like Princess X, you will match the Christmas tree lights!
###