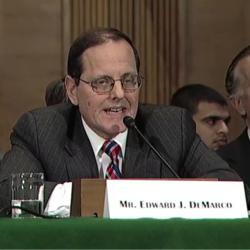 One challenge in considering potential solutions to the underwater population is to discourage or prevent, or at least not reward, voluntary behavior by homeowners to default on their mortgage obligations if they have the ability to pay. ~ DeMarco
Minnepolis, Minnesota (PRWEB) August 02, 2012
Edward DeMarco, acting director of the Federal Housing Finance Agency (FHFA) which oversees Fannie Mae and Freddie Mac, recently said "Today, I provided a response to numerous congressional inquiries as to whether the Federal Housing Finance Agency (FHFA) would direct Fannie Mae and Freddie Mac to implement the Home Affordable Modification Program Principal Reduction Alternative (HAMP PRA). FHFA has concluded that the anticipated benefits do not outweigh the costs and risks." As the U.S hears this decision, it may not be easy for distressed homeowners to be told "no" and neither is it easy to say "no".
Spending, or reducing principal owed, has immediate gains. However, taxpayers will ultimately have to pay for mortgage principal reductions. As of the end of 2011, taxpayers had already spent nearly $185 billion to keep the mortgage giants afloat. Home Destination has a number of questions. What can taxpayers really afford in the balance of it all? Should we be reorienting the first loss order for underwater mortgages?
DeMarco's letter to Congress two days ago says, "While analyses show a benefit to the Enterprises from employing principal forgiveness, the benefit to taxpayers varies from negative to positive depending on the DTI distribution. This further illustrates the sensitivity of the model-based results to certain assumptions."
The letter come to the point by saying, "The under-reported story through the housing downturn has been that despite the number of people underwater on their mortgages, the vast majority have continued to pay their mortgages, meeting their contractual obligations. For example, approximately 80 percent of the Enterprise's underwater borrowers are current on their loans. However, despite most underwater borrowers remaining current on their mortgages, we have also seen borrowers default on their underwater mortgages without apparent disruption to their other financial obligation, and various commentators have actually encouraged such "strategic default."
DeMarco's letter states his forethought and posture to strengthen Fannie Mae and Freddie Mac in that he "previewed for Congress several housing-related initiatives to strengthen the loss mitigation and borrower assistance efforts of Fannie Mae and Freddie Mac as well as improve the operation of the housing finance market." These initiatives include:
1) new and consistent policies for lender representations and warranties
2) alignment and simplification of the Enterprise short sale programs
3) further enhancements for borrowers looking to refinance their mortgages.
It is no light matter to go at odds with Treasury Secretary Timothy Geithner. Public records show that DeMarco has support from high ranking Republican members of Congress, "including Senator Bob Corker (R-TN),Representative Darrell Issa (R-CA) and Representative Spencer Bachus (R-AL)", as reported by Frobes. They concur with the logic behind his tough decision and continue seeking how taxpayers can best carry the burden of helping underwater homeowners. Along with several housing analysts, the American Bankers Association(MBA) has also taken a stance that defends DeMaco and continues to look for better long-term solutions that would make credit more accessible.
"FHFA has made the determination that the long-term national costs of a widespread principal reduction program are unlikely to outweigh what may be a short-term gain for a few select borrowers in certain states," declared David H. Stevens, president and chief executive officer of the MBA. "We agree that principal forbearance can help borrowers realize a payment reduction in a similar way as principal reduction. It is critical to implement solutions that help the American homeowner without incurring the negative long-term impact of making credit less available and more expensive."
"This should be positive for housing by taking off the table the threat of a wave of defaults by borrowers looking to get principal reduction," Jaret Seiberg, senior policy analyst at Guggenheim Partners, wrote in a note to investors.
"The heat is so intense because DeMarco holds the key to Fannie and Freddie Mac along with 12 other home Federal Home Loan Banks," says Jenna Thuening, owner of Home Destination. According to the FHFA, these agencies provide a staggering $5.7 trillion in funding for the U.S. mortgage markets and financial institutions including key lenders. Even with TARP funds possibly added to the mix, DeMarco holds his ground that it doesn't figure out productively to take money from one pocket and put it in another.
Homeowners in the Minneapolis area can contact Home Destination for help considering options if facing foreclosure or have an underwater mortgage and need help. Call 612-396-7832.