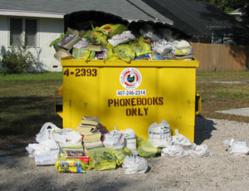 The move towards specific opt-in programs will drastically lower the number of unwanted phone books which account for the majority of waste generated within a county on an annual basis.
Northport, NY (PRWEB) December 29, 2012
YellowPagesGoesGreen.org, a massive business directory website at the forefront of the environmentally-conscious "Green" movement, is calling for new laws by cities across the United States to begin mass implementation of print Yellow Pages "opt-in" programs; a series of laws that will make it illegal for print Yellow Page publishers to deliver their hard-copy directories to the doorsteps without customers' prior permission to do so.
"The move towards specific 'opt-in' programs will drastically lower the number of unwanted phone books which account for the majority of waste generated within a county on an annual basis," said Michael Keegan, Chief Executive Officer of Yellow Pages Directory Inc., in New York.
An innovator in digital business information delivery, YellowPagesGoesGreen.org is a cutting-edge website and superior alternative to print directories which delivers over 28.5 million up-to-the-minute listings of businesses throughout the United States and Canada; users can quickly, easily, and conveniently access the information they need to find goods and services they want, as well as create and manage their unique business listings. This can be done not only through their website, but through Android and Apple digital devices as well with YellowPagesGoesGreen.org's exclusive free downloadable Applications ("Apps"), available at both through Google Play and the iTunes Store.
The benefits of "opt-in" programs are clear when you realize how much solid waste can be attributed to the use and abuse of paper; DailyGreen.com reports that paper accounts for 25% of landfill waste, and one third of municipal landfill waste. Statspotting.com adds that paper waste accounts for up to 40% of total waste produced in the United States each year, adding up to 71.6 million tons of paper waste per year in the United States alone.
According to The Washington Post's Brad Plumer in his Blog Post, "Is it time to kill off the phone book?", 16 states have enacted "opt-in" laws - states as varied as California, North Carolina, Oklahoma, Florida and Alabama. However, it is difficult to envision why the remaining 30-plus states without the benefit of "opt-in" laws dismiss the idea. According to statistics listed in their article "Is It Fair to Make Phone Books Optional?" authors Eric de Place and Pam MacRae cite the fact that many U.S. states which do have "optional" phone book delivery programs find that a startlingly low number of residents actually bother to request them. For example:

In New York State, where Verizon has roughly 4.7 million lines in service, it is reportedly received requests for phone books from customers owning fewer than 2 percent of those lines.
In Alabama, where the state rolled out a two-year pilot program in the Mobile metro area, officials discovered that only 6 percent of residents wanted a phone book delivered the first year, and 7 percent the second year.
In Atlanta and Austin, AT&T says that fewer than 3 percent of customers request directories.
Nationwide, AT&T has indicated that just 1 or 2 percent of its customers want print directories in places where delivery is optional.
In fact, Ban The PhoneBook.org points out a recent Harris Interactive survey stating that 87% of consumers would support an 'opt-in' program if they knew it would have a positive impact on the environment and save taxpayers money. BanThePhoneBook.org goes on to assert that consumers have the power to influence the telephone companies, public utility commissions and local city and state governments to institute an opt-in delivery program.
San Francisco, California is known for its historic adoption of a city-wide yellow page "opt-in" program, signed by Mayor Ed Lee in May of 2011 in an effort to curb the city's significant waste issues; much of them created by massive amounts of discarded phone books (up to 3600 tons annually), a situation covered by the San Francisco Gate.
"Mayor Lee recognizes that there are still many residents and businesses that rely on the Yellow Pages," Lee's spokeswoman, Christine Falvey, said in an official statement. "But this will dramatically reduce the number of unwanted phone books in San Francisco."
Local print publishers are continually fighting an uphill battle against new laws looking to end even white page residential listings. According to the Seattle Times legislators appear close to ending mandatory delivery of White Pages phone books to Washington households where the Utilities and Transportation Commission stated: "Due to changes in technology, the number of people who rely on printed directories of telephone numbers has decreased significantly and continues to decline. Telephone numbers are readily available on the Internet, which an increasing number of consumers access in place of printed directories. Communities are also concerned with the environmental impact of printed directories, and local governments are beginning to encourage their citizens to forgo these directories as a means of reducing waste and the expense created by directory disposal. This rulemaking seeks to accommodate these concerns and customer usage patterns to more carefully tailor regulatory requirements to consumer and community needs."
Keegan added "In light of these facts, it's clear that, in 2013 and onward, demanding the creation of local "opt-in" laws for both yellow and white pages printed directories while using online digital directories such as YPGG.org is the future while not only embracing a green lifestyle, but also servicing the needs of consumers."
About YellowPagesGoesGreen.org
Yellow Pages Directory Inc., owner of both YellowPagesGoesGreen.org and PaperlessPetition.org, offers an environmentally-friendly Web-based alternative to paper telephone directories while providing a simple and convenient mechanism for customers to opt out from printed yellow books. Both web sites have been instrumental in promoting opt-out awareness across the United States over the past several years, and allowing users to reduce their own environmental footprints in the process. Yellow Pages Directory Inc. has also taken steps to reduce its own impact on the environment through the use of energy-efficient web-hosting services.
For more information please visit http://www.YellowPagesGoesGreen.org