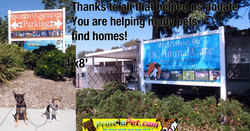 "When I know there is an opportunity to help in anyway I can I will find a solution"
Santa Ana, CA (PRWEB) September 28, 2010
René Bruce, Founder of Print4aPet.com and Surfinpaws.com recently learned that a local animal shelter was being passed up because it lacked signage so he decided to do something about it. Bruce is known for his work with training and saving animals by finding them homes after rescuing them. Bruce is also a major contributor to animal charities such as OCSPCA through his well known events such as dog surfing contests and red carpet dog parties.
A few months ago, Bruce visited the OC Animal Care Center, where he met, Katie Ingram, which promotes responsible pet ownership; health and safety of people and animals and spay/neuter programs. The Animal Care Center provides temporary shelter and medical care for "lost" owned or stray animals and opportunities for adoption of these animals. Unfortunately, the center is run on a percentage of small fees received from pet licensing and minimal donations.
At the OC Pet Expo 2008, Rene met shelter dog Hector (10lb 2 yr Chihuahua), that he fell in love with and rescued from the shelter (Hector now splits time with his new family between Park City UT and Care free AZ). "I wish I could save all of the pets, but I know I can't take in more than the responsible amount so I'm creating ways to help that are through my businesses and connections", say Bruce".
Upon meeting Katie and rescuing Hector, Bruce learned of the shelters location and realized he drove by it regularly for 25 years but didn't know it was there because of their lack of signage, which is a luxury item for the shelter with their low revenue. Bruce immediately wanted to do something about the signage issue so he used his own resources through his side company Print4aPet.com, a full service printing and graphic arts company that donates 20% of each sale to animal related charities such as in the case with the signage for the OC Animal Care Shelter.
Bruce saved $2000 from the proceeds of printing projects and used it to design and produce the two signs for the shelter. He also took all of the photography using images he shot himself from real rescue and shelter pets from the facility (Hector is on the sign to). One sign is facing a major high traffic street, The City Drive, and the other sign welcomes guests as they walk in. The City of Orange helped Bruce and the shelter with the signage installation. "When I know there is an opportunity to help in anyway I can I will find a solution", said Bruce, "and I hope these signs will help save 1000's of pets lives by letting the community know that the shelter is there".
About René Bruce
René Bruce is an entrepreneur/inventor and animal photographer. Bruce owns and operates
Print4apet.com a full service printing and graphics arts company that donates proceeds to animal charities. Bruce also founded Surfinpaws.com a not for profit company that puts on dog surfing contests, and also the first to offer free lessons, including, free life vests, and boards to use along with instruction from Kia, Rene Bruce's top Dog. Kia has been surfing 8yrs and is a winner in her weight class, as well as has been on Reuters, the AP, home page of Yahoo news many times and even on National Geographic's site promoting dog fun as she has been riding on his Harley, Skateboard and even Sea Doo's for 9 years. Kia even has a celebrity section at her own website Kiapet.com and has been blogging since 2001!
Kia is joined by Bruce's other pet pals, Pancho Villa, Flaka, and rotating fosters. All of Bruce's dogs carry business cards in their backpacks and have passed out over 10,000 cards since 2001 to help people understand that human's best friends can get out and do all sorts of things, not just sit in a back yard and be a guard dog.
###