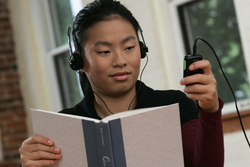 The members we serve have been asking for this technology, and we are proud to be delivering a solution. AudioAccess will provide the same high-quality audio textbooks our members have come to rely on
Princeton, NJ (Vocus) August 5, 2008
Recording for the Blind & Dyslexic® (RFB&D®), the nation's educational library for students of all ages who cannot effectively read standard print because of a learning disability, such as dyslexia, visual impairment or other physical disability, introduces AudioAccess(SM), a new downloadable audio textbook that plays on the widely available Microsoft Windows® Media Player (version 10 or above) and can by synchronized with most Windows-compatible portable media players.
AudioAccess expands the choices RFB&D offers students with print disabilities, such as dyslexia. Now RFB&D members can select to receive their accessible textbooks, literature and other supplemental educational materials in any of three formats: AudioAccess, AudioPlus® or NIMAC files. Each provides students with complete and unabridged audio versions of the textbooks they need to level the academic playing field.
"AudioAccess is a great step forward in the use of new technologies to make the written word accessible to students with dyslexia and certain other disabilities that cause reading to be difficult or impossible," said RFB&D's President and Chief Executive Officer John Kelly. "The necessity of specialized playback equipment is coming to an end. AudioAccess allow these students to access their textbooks using the software that comes bundled with most computers, and synchronize those textbooks with a portable media player so they may learn in school, at home and on the go."
On Monday, August 4, 2008, enrolled members can not only order the books they need from RFB&D's fully accessible online catalog of more than 46,000 educational titles, but can now download those books directly to their Microsoft Windows-compatible computer. No longer will students need to wait for their books to arrive in the mail. RFB&D's new online order fulfillment walks members through the ordering process, installs the free RFB&D Download Manager software and quickly organizes the books members order on their computer for easy use. The Download Manager allows members to download an entire book or just the sections they need.
"The members we serve have been asking for this technology, and we are proud to be delivering a solution. AudioAccess will provide the same high-quality audio textbooks our members have come to rely on," said Julia Freedman, Senior Vice-President of Programs and Services at RFB&D. "This innovation will allow students with dyslexia and certain other print related disabilities to build reading confidence, independence and success."
RFB&D Offers Students Choices
RFB&D offers individuals with print disabilities access to the largest library of unabridged audio textbooks and literature in the U.S. The titles in the CV Starr Learning Through Listening® library have been selected to match the book lists for school core curricula and for students' Individualized Education Programs (IEPs). RFB&D's audio textbooks are the only audio textbooks recorded by human readers who describe every chart and graph for subjects such as algebra and chemistry. Educators and students can choose from three formats of audio textbooks to best suit their needs:

AudioAccess(SM) - Downloadable audio textbooks that can be played on a Windows-compatible computer using Microsoft Windows Media Player or a Windows-compatible portable media player
AudioPlus® - DAISY formatted audio textbooks on CD that offer a greater level of navigation and require specialized DAISY software or players
NIMAC/NIMAS files - As an Accessible Media Producer (AMP), RFB&D produces and delivers full text/full audio version of textbooks deposited in the National Instructional Materials Accessibility Center. Fulfillment is through RFB&D's AMP designation process. For more information on NIMAC, visit http://www.nimac.us.
AudioAccess' Technical Requirements
Microsoft Windows® XP or Vista
A high-speed Internet connection
Microsoft Windows Media Player (Version 10 or higher)
Compatible portable media players
For more information on technical details and compatibility visit http://support.rfbd.org/index.aspx?page=playing
About Recording for the Blind & Dyslexic (RFB&D)
RFB&D is a nonprofit volunteer organization that relies on the generous contributions of individuals, foundations and corporations to support its programs. RFB&D serves more than 237,000 students from kindergarten through graduate school and beyond with its one-of-a-kind collection of digitally recorded educational titles and educator support materials. For more than 60 years, students have relied on RFB&D's unique accommodation to access the printed word and to achieve educational success. All of the more than 46,000 accessible titles in RFB&D's collection are recorded by the more the 7,000 active volunteers working in 29 recording studios nationwide.
For information on RFB&D, volunteering or making a donation, call toll-free 866-RFBD-585 (866-732-3585) or visit RFB&D's accessible website at http://www.rfbd.org.
Contact:
Edward Bray
Strategic Communications
609-520-7993
media @ rfbd.org
# # #