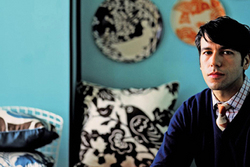 Customers love his fresh take on design
Kennett Square, PA (Vocus) October 7, 2008
They're bold. Graphic. High contrast. And that just begins to describe the distinctive print fabrics and silhouette patterns from designer Thomas Paul, now available by the yard at the 100+ Calico Corners - Calico Home stores across the United States. Paul's patterns have been shown in dozens of magazines that featured his stationery and wrapping paper, plates, pillows, rugs, lampshades, totes and wall art. Just this year, he's branched out into interior fabrics for his first collection.
"Customers love his fresh take on design," notes Jan Jessup, director of communications for Calico Corners. "His style is young and hip, clean and colorful -- and we're delighted to have so many of his patterns now in our stores."
Also shown online at http://www.calicocorners.com , the Thomas Paul designs include patterns Aviary, Blossom, Dahlia, Parasols, Regency, Silhouette and Stockholm, most in multiple colorways and printed on a heavy 100% cotton basecloth. Retail prices are very affordable.
Background on Thomas Paul
A designer who prefers to let his work speak for itself, Thomas Paul Fernez is a native of New York City who began his design career at a silk mill, creating patterns for men's neckties. (Not a bad place to begin; neckwear is also where Ralph Lauren launched his design career.) It was Paul's first design job after graduating from the Fashion Institute of Technology with a degree in textile design. His silk patterns were fashioned into ties for Bill Blass, Calvin Klein and DKNY, among others.
After becoming a bit bored with the limitations of neckwear -- ''men basically only want to wear navy, red or yellow ties with dots or stripes,'' he observed -- Paul started to produce pillow patterns that were screen printed on silk. His first pillow collection was introduced in 2001. That led to the steady growth of his line to other product categories, including tabletop, stationery -- and now fabrics for the home.
"In addition to his great sense of color, Thomas has a love of nature expressed in overscaled patterns that are often drawn in bold silhouettes," states Jessup. "He has a unique hand that's hard to pigeonhole. It's a bit retro, but also very au courant. His designs have a definite personality and I think that's what customers respond to."
Decorating with Statement Prints
"There are two ways to decorate successfully with strong, dominant patterns," suggests Jessup. "Use a little -- as in throw pillows on one great chair to make a statement -- or use a lot, such as on draperies or top of bed in a bedroom. Your choice really depends on your love of pattern -- and whether the room needs a little punch or could benefit from making a big design statement."
Calico Corners - Calico Home stores provide expert decorating advice and in-home design consultation in more than 100 stores across the country. Consumers will find thousands of designer fabrics for the home at value prices; window treatments, blinds and shades; custom upholstered furniture, plus rugs, lamps, decorative accents and more. Thousands of fabrics are available online. For more information or to find the nearest store, visit http://www.CalicoCorners.com or call (800) 213-6366.
###