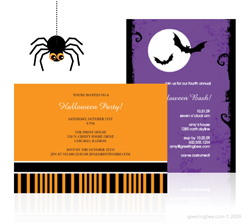 The response to a custom greeting card that is uniquely designed and personalized specifically for the recipient is amazing
Phoenix, Ariz. (PRWEB) October 13, 2009
GreetingBee.com® announced Print@Home™ today, a new service that allows anyone to instantly print custom greeting cards and prepaid gift cards on any color home or office printer. The Print@Home service expands on GreetingBee.com's web 2.0 card design studio, allowing anyone to create custom cards from scratch or from GreetingBee.com's extensive library of trendy predesigned card templates - all from within a web browser.
While ordering professionally printed custom greeting cards is always an option for GreetingBee.com visitors, Print@Home will eliminate the wait by delivering printable cards directly to the visitor's email inbox using the Adobe® PDF file format.
"The response to a custom greeting card that is uniquely designed and personalized specifically for the recipient is amazing," said Peter Reich, GreetingBee.com President. "It's now possible to instantly print on your home color printer the same custom photo greeting cards previously available only through our professional card printing service."
Whether it's printable birthday cards, printable anniversary cards, or custom photo cards, Print@Home puts the perfect solution right at the customer's fingertips. It's fun and easy to design and print the perfect card for any occasion, from anywhere in the world. A prepaid gift certificate to fine retailers can even be printed directly inside the card.
Customers can also schedule special occasions and events in their GreetingBee.com calendar and receive reminders when it's time to create GreetingBee.com printable greeting cards. An e-mail from GreetingBee.com will appear in their inbox shortly before the date scheduled allowing time to design and print a card.
GreetingBee.com is a privately held company based in Phoenix, Ariz. The site offers cutting-edge, interactive card design software backed by the expertise of veteran interactive software developers with over two decades of industry experience. GreetingBee.com prints on high-quality card stock and is committed to the environment with the use of environmentally-friendly inks and recycled paper certified by the Forest Stewardship Council.
###