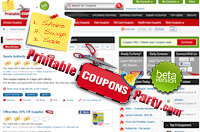 Thousands of coupon parties are hosted every weekend, why not throw one the world can join?
Charlotte, NC (PRWEB) September 06, 2011
The economy is getting worse, no wait, the economy is getting better. No matter what you hear we all know how the economy is affecting us, and for the majority that means finding coupons to save on everything from grocery bills to date nights. Coupon redemption has gotten so popular, that there are multiple TV reality shows like "Extreme Couponing" on the TLC network and house parties thrown for the simple reason of trading coupons with neighbors. What if it could be bigger though? asks Matthew Dixon of Paul Internet.
A new website just might hold the key to the future of finding and sharing coupons, with anyone and anywhere. PrintableCouponsParty.com launched on September 5th, 2011 with all of this in mind, and within hours was receiving tons of users who latched on to this new social couponing platform.
PrintableCouponsParty.com looks to be in a quick rise due to the basic focus on two things, printable coupons and sharing them. The majority of coupons needed for redemption in the stores require coupon in hand, and keeping your printer hopping, something the founder of the website understood completely. "Thousands of coupon parties are hosted every weekend, why not throw one the world can join?" said Michael Paul, founder of PrintableCouponsParty.com.
The coupon website boasts a large array of user driven features not typically found on most coupon blogs. In fact, the website has went the way of complete social integration. A free membership to join allows a user to make new friends, create like-minded groups, and even rate coupons and help other members to find the best deals quicker within minutes of logging on. The service even provides instant Facebook account integration so you can login without having to setup a new account on the site. Not a bad way to get going if you are new to coupons, and a fit just right even for the seasoned coupon professional. Browsing your way around the new site, you will also find group discussions surrounding the best deals, as well as those sharing their success stories on how they maximized returns on a certain coupon.
"Every day we see more and more users joining the site," Michael said. "It answers a common sense need so many people wanted with the ability to find, trade, and rate coupons on a larger scale."
Categories abound that make your search coast along in accessing the best discounts needed for the next shopping trip, or even finding a few deals they weren't expecting. Either way, PrintableCouponsParty.com meets a need for those filling the pinch and wish to make new friends that can help them through it.
Learn more and sign up for free at http://www.PrintableCouponsParty.com
###