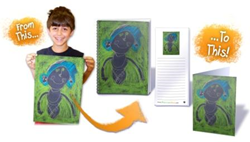 Parents know that their kids' art is special. PrintArtKids believes in the magic of using this art to build self-esteem in young children.
(PRWEB) September 28, 2010
Media, PA PrintArtKids announced its official launch today, enabling parents, grandparents, caregivers and teachers worldwide to transform children's artwork into unique and functional items that honor their talents. Remember the pride you felt as a child when mom displayed your artwork on the refrigerator for all to see? PrintArtKids takes that warm, fuzzy feeling one step further and turns kids' unique, artistic creations into practical, one-of-a-kind treasures to share with family and friends.
Custom notepads featuring a child's vibrant flower painting are handy for writing notes to teachers or for making to-do lists. The favorite Christmas ornament that Emily created in 3rd grade can be turned into this year's holiday card. Taylor's finger painting from kindergarten can become a one-of-a-kind note card. Imagine Matthew's excitement at seeing his own art "masterpiece" featured on birthday cards, invitations and thank-you notes. Kids will feel a sense of pride as they share these cherished gifts with friends, grandparents, teachers, aunts, uncles, mom and dad.
PrintArtKids is not just for kids. Adults can get in on the act, too, by creating one-of-a-kind printed treasures from their own artwork or favorite photographs from their kids' sporting events, family vacations or other special occasions. For animal lovers, all PrintArtKids products can be created using photos of a favorite pet.
"Parents know that their kids' art is special," said Abbe Lunger, PrintArtKids founder and CEO. "PrintArtKids believes in the magic of using this art to build self-esteem in young children. By transforming this art into notepads, note cards, return address labels, holiday cards and other stationery products, PrintArtKids enables parents to preserve, share and enjoy their kids' cherished creations and offers a wonderful opportunity to enhance their children's confidence."
Visit PrintArtKids.com to see the entire selection of art and photo products.
About PrintArtKids
PrintArtKids was founded by a mom who realized the value of children's artwork in lifting the spirit of young children. Inspired by the mountains of her kids' art that had accumulated over the years, this mompreneur was determined to find a way to use and enjoy her kids' creations in a fun, practical manner. Products include a variety of art and photo items such as custom holiday cards, notepads, note cards, notebooks, return address labels and birthday invitations. What is unique about PrintArtKids is that there are no limitations to size or art materials used. Glitter, macaroni, even googly eyes can be reproduced onto any of the products. Most items can be customized with a personalized message using a selection of available fonts and colors. PrintArtKids is committed to using environmentally friendly materials.
PrintArtKids provides parents with the resources to create a variety of printed products featuring their children's artwork. Kids feel a tremendous sense of pride when sharing their "masterpieces", and this is a healthy, productive way to build their self-esteem.
PrintArtKids was recently recognized by Main Line Today Magazine as the "Best Kid-Friendly Online Startup 2010". http://www.mainlinetoday.com/Main-Line-Today/July-2010/Best-of-the-Main-Line-amp-Western-Suburbs-2010/index.php?cparticle=16&siarticle=15.
###