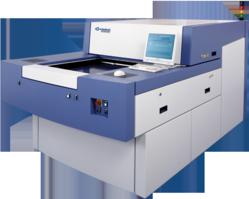 "Utilizing Orbotech's digital production tools in our Tempe facility gives us the speed and accuracy needed to support an increased volume of orders, while ensuring that we can produce more complex PCB designs." - Mark Thomas, CEO
Minneapolis, MN and Billerica, MA (PRWEB) April 05, 2012
HEI Inc. (Pink Sheets: HEII; http://www.heii.com), a leader in Electronic Manufacturing Services (EMS), and Orbotech, Inc., the North American subsidiary of Orbotech Ltd. (NASDAQ/GSM: ORBK), a leading global provider of yield-enhancing and production solutions for printed circuit boards (PCBs), today announced that HEI has taken delivery of and qualified the Paragon™ 9800 Laser Direct Imaging (LDI) system, Ultra Discovery™ Automated Optical Inspection (AOI) system as well as InPlan®Flex and GenFlex® CAM/Engineering software.
The purchase of these additional systems is part of HEI's larger capital and capacity expansion plan, including an increase of 25% more manufacturing space at its Tempe, AZ facility which specializes in quick-turn and production of high density interconnect, flex and rigid-flex PCBs.
"We are in the process of expanding our operation through technology advancement and production capacity to address new opportunities for growth", said Mr. Mark Thomas, CEO at HEI. "Utilizing Orbotech's digital production tools in our Tempe facility gives us the speed and accuracy needed to support increased volume of orders, while ensuring that we can produce more complex PCB designs with the shortest possible cycle times and highest quality."
Mr. Gaby Waisman, President of Orbotech West, said: "We are proud that HEI has selected these additional Orbotech systems as an integral part of its strategic development plan. By delivering industry-leading systems that have the flexibility to handle jobs of varying volumes, applications and complexities, we are able to offer our customers the production advantages needed to more confidently and successfully pursue new avenues for revenue generation and growth. "
About HEI, Inc.
HEI, Inc. designs, develops and manufactures ultra-miniature microelectronics, substrates, systems, connectivity and software solutions for customers engaged in the medical, hearing, telecommunications, military, aerospace, and industrial markets. HEI provides its customers with a single point of contact that can take an idea from inception to a fully functional and cost effective product utilizing innovative design solutions and by the application of state-of-the-art materials, processes and manufacturing capabilities. Visit us at heii.com.
About Orbotech Ltd.
Orbotech Ltd. (NASDAQ/GSM: ORBK) has been at the cutting edge of the electronics industry supply chain, as an innovator of enabling technologies used in the manufacture of the world's most sophisticated consumer and industrial products, for over 30 years. The Company is a leading provider of yield-enhancing and production solutions, primarily for manufacturers of printed circuit boards, flat panel displays and other electronic components; and today, virtually every electronic device is produced using Orbotech technology. The Company also applies its core expertise and resources in other advanced technology areas, including character recognition for check and forms processing and solar photovoltaic manufacturing. Headquartered in Israel and operating from multiple locations internationally, Orbotech's highly talented and inter-disciplinary professionals design, manufacture, sell and service the Company's end-to-end portfolio of solutions for the benefit of customers the world over. For more information please see the Company's filings with the U.S. Securities and Exchange Commission at http://www.sec.gov and visit the Company's corporate website at http://www.orbotech.com. The corporate website is not incorporated herein by reference and is included as an inactive textual reference only.