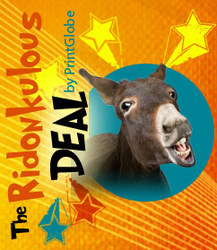 Companies and organizations need to brand themselves and stand out from the crowd more than ever during these challenging and ultra-competitive times
Austin, TX (PRWEB) March 18, 2009
In support of businesses everywhere who are struggling to survive the current economic climate, PrintGlobe.com - the Online Printing Superstore, is launching a weekly campaign on the popular service Twitter to offer unheard of promotional printing deals to the public. PrintGlobe is partnering with leading suppliers, attaining the best possible prices and extending the unprecedented branding value to customers.
Every Monday followers of PrintGlobe's Twitter Ezine, 'RidonkulousDeal" (@RidonkulousDeal) are rewarded with an unbeatable custom product deal that is refreshed weekly. Each product is carefully selected from thousands of top products carried on PrintGlobe.com and posted on Twitter for the first 25 customers. These exclusive deals are some of the best in the industry and offer savings up to 50 percent off or more. PrintGlobe's first exclusive Twitter promotion is an 18 oz. Sip-N-Spray Sports Bottle that keeps you cool with an innovative misting lid.
"Companies and organizations need to brand themselves and stand out from the crowd more than ever during these challenging and ultra-competitive times," says PrintGlobe founder and President Dan Steinborn. "Our new Ridonkulous Deals Tweet-Zine offers marketing folks an opportunity to purchase fun and effective collateral for 1/2 price or less! There will be no better deal out there for these products."
PrintGlobe is taking advantage of the effectiveness of Twitter to offer customers quick, frequent updates, news and deals on the fly. Twitter is a social networking service for friends, family, and co-workers to communicate and stay connected. It enables its users to send and receive updates, tweets, which are text-based posts of up to 140 characters in length.
PrintGlobe operates the leading online printing superstore, offering the most complete 'one-stop shop' for printed marketing materials, promotional products, signs and banners and custom gifts. PrintGlobe enjoys a rapidly growing customer base, totaling more than 30,000 customers. More than 30% of the Fortune 500 companies order from PrintGlobe, in addition to more than 100 universities, federal and state agencies, and leading national social organizations.
Contact Info:
PrintGlobe
Ridonkulous Deal by PrintGlobe
PrintGlobe Twitter
###