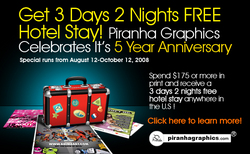 Print and Enjoy Your Free Hotel Stay Program
Sunrise, FL (PRWEB) August 13, 2008
In celebration of their 5th Anniversary and following the recent introduction of their printing website (http://www.piranhagraphics.com), the Piranha Group continues to stretch the boundaries of customer satisfaction by introducing the "Print and Enjoy Your Free Hotel Stay Program"™.
This is a simple, yet crazy marketing program that offers new customers a (3) days (2) nights hotel stay anywhere in the US, for spending as little as $175 on print/and or design, no questions asked.
"For our 5 year anniversary, we simply wanted to come up with a marketing campaign that would leave our customers in a state of wow! At a time where high gas prices are effecting the American families, said Wissem Zarrouk, CEO for Piranha Group, Inc, we wanted to reward small business owners, for something that they are already doing, with a hotel stay which hopefully they will enjoy"
Piranha Graphics enables consumers to buy high quality print, such as Business cards, Postcards, Flyers etc... at almost wholesale prices. Products range from Business cards, Postcards and Flyers to Brochures and presentation folders. Everything is fill color, double sided and on either card stock, 100lb or 80lb paper. The current special the company is offering is 5000 business cards, full color, double sided, UV on a card stock for as little as $59. The other special is 5000 4x6 postcards, full color, double sided, UV on a card stock for as little as $150. More crazy deals on http://www.piranhagraphics.com.
For further information please contact:
Amy Collins
Customer Service Manager, Piranha Graphics
Tel: 954-578-2005
Email: acollins @ piranhagraphics.com
###