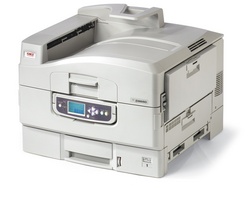 Businesses are always looking for new ways to increase the overall productivity and efficiency of their workplace, while keeping an eye on their bottom line
MOUNT LAUREL, N.J. (PRWEB) December 3, 2007
"Businesses are always looking for new ways to increase the overall productivity and efficiency of their workplace, while keeping an eye on their bottom line," said Mike Garofola, Senior Marketing Manager, Color Printers and MFPs at OKI Data Americas, Inc. "Boasting greater media flexibility, the new C9650 Series enables companies to take control of both traditional office and outsourced printing requirements, ultimately reducing their operating costs, saving time and allowing our customers to explore their internal creativity."
With productivity at its forefront, the C9650 Series of color printers boast better paper handling and increased performance - all upgrades to their C9600 Series predecessor, while maintaining the same overall Total Cost of Ownership (TCO) and Cost Per Page (CPP). More and more, businesses are looking for ways to bring their outsourced printing needs in-house in order to control cost, increase productivity and save time. The C9650 Series touts the most media flexibility in its class, accommodating up to 307 grams per square meter (gsm) of paper, which is equivalent to a 54lb bond or a 75lb cover - ideal paper weight for a company's direct mail marketing piece for example. Combined with fast printing at up to 36 pages per minute (ppm) in color and 40 ppm in black-and-white with 10.5 seconds time to first color page(1), businesses can produce exceptional corporate materials in-house with affordability, quickness and ease.
Key standard features of the C9650 Series include:
Performance
-- Fast print speeds of up to 36 ppm in color and 40 ppm in black-and-white(1) that improve productivity and efficiency
-- Quick time to first page at 10.5 seconds for color and 9 seconds for black-and-white(1) reducing time spent waiting for print jobs
-- 1200 x 600 dpi resolution, ensuring exceptional color output for in-house printing of corporate and marketing materials
-- Industry leading standard memory at 512 MB allowing large files to be handled with ease; an optional 40 GB hard drive offers additional storage and management of forms, logos, letterheads and fonts(2)
Ease-of-use
-- Greater media control and flexibility, including color tabloid extra (12" x 18") and up to 307 gsm (equivalent to a 75lb cover), allowing users to produce a variety of materials in-house, such as direct mail marketing pieces or promotional signage
-- Auto Media Detect feature automatically adjusts the printer to the media type being used without the user having to intervene
Value
-- Higher yield toner capacity of 16.5k for color and 18.5k for black-and-white, lessening the time and cost spent changing toner (based on 5% page coverage)
-- Low cpp at 8.4 cents for color and 1.3 cents for mono printing, supporting a business' cost-efficiency and bottom-line
The C9650 Series includes three models: C9650n, C9650dn and C9650hdn and starts at an estimated street price of $3399. It will be available in December in North and South America exclusively through OKI Printing Solutions authorized solution providers and dealers.
The product builds on parent company OKI Data Corporation's history of leadership and innovation in color printing. It is based on the 7th generation of printing technologies advanced by OKI Data Corporation, such as digital LED technology and Single Pass Color(TM). This technology allows OKI Data to manufacture products that require fewer moving parts.
Every product comes with a one-year Overnight Exchange warranty and an industry-leading five-year warranty on the digital LED print heads. Like all OKI Printing Solutions products, the C9650 is backed by comprehensive support from authorized OKI Printing Solutions solution providers. In addition, the company provides live, toll-free(3) technical support 24 hours a day, 7 days a week, 365 days a year, with agents based in North America.
About OKI Data Americas, Inc.
OKI Data Americas, Inc., headquartered in Mount Laurel, N.J., and a subsidiary of OKI Data Corporation of Japan, markets PC peripheral equipment under the OKI Printing Solutions brand, including digital color and monochrome printers, color and monochrome multifunction products and serial impact dot matrix printers. As business printing solutions specialists, OKI Data Americas provides world-class printing technology and real-world solutions designed to help manage workflow and optimize business performance. OKI Data Americas is ISO 9001:2000 certified and also offers a full line of options, accessories and consumables. Most OKI Printing Solutions' products have earned the ENERGY STAR(R). OKI Electric Industry Co., Ltd., parent company to OKI Data Corporation, is a $5.8 billion multinational corporation with headquarters in Tokyo and is a world leader in information processing systems, telecommunications and electronics.
OKI, Reg. OKI Electric Industry Co., Ltd. Energy Star Reg. T.M. U.S. EPA, Single Pass Color T.M. and design Reg. T.M. OKI Data Corp.
(1) Published performance results based on laboratory testing. Individual results may vary.
(2) Standard memory compared to HP 5550n, Lexmark 935dn, Xerox 7400n, Ricoh CL7300d
(3) Available in the U.S. and Canada only