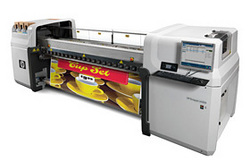 The new HP printer is already making an impact on our business by increasing our capacity by 25%
Croydon, Surrey (PRWeb UK) February 9, 2010
Discount Displays, the leading UK supplier of portable trade show exhibition stands and large format print graphics, has further strengthened its position in the display printing market with the purchase of a six-colour HP large format printer that uses environmentally friendly, odourless inks.
The new large format printer delivers rich, saturated colours in high resolution (up to 1200 dpi), superior quality prints for both indoor and outdoor applications.
The printing process is far more operator-friendly during printing since no ozone or pollutants are produced. The odourless inks are non-flammable and non-combustible, and many of the materials used are recyclable.
In addition to superb print quality, the new printer provides faster turnaround times because the paints dry inside the printer.
"The new HP printer is already making an impact on our business by increasing our capacity by 25%," said Giles Fletcher managing director of Discount Displays. "Speed, quality and printer durability are fantastic. But the most impressive benefits are the environmental improvements to our print production, not only for our customers but in the improved work environment for our print staff."
According to Fletcher, the use of digitally printed wide format graphics in enclosed spaces had not been possible before because of VOCs found in inks. However, HP Latex Inks eliminate this problem, and wide format graphics printed using the latex inks can now be safely used in indoor environments, including restaurants, food stores and even hospitals.
"We're very excited, because not only can we produce prints to an even higher quality more quickly, but it also opens up a wide range of new markets to us."
For more information, visit http://www.discountdisplays.co.uk or call on 0844 800 1020.
About Discount Displays
Discount Displays is the UK's leading supplier of portable trade show exhibition stands, banners, retail signage and large format graphics. Discount Displays is based in Croydon, Surrey on the outskirts of London and supplies all of the United Kingdom (England, Wales, Scotland, Ireland, Northern Ireland) and all its cities, including Bath, Birmingham, Bradford, Brighton & Hove, Bristol, Carlisle, Cambridge, Canterbury, Chester, Chichester, Coventry, Derby, Durham, Exeter, Gloucester, Hereford, Kingston-upon-Hull, Lancaster, Leeds, Leicester, Lichfield, Lincoln, Liverpool, London, Manchester, Newcastle-upon-Tyne, Norwich, Nottingham, Oxford, Peterborough, Plymouth, Portsmouth, Preston, Ripon, Salford, Salisbury, Sheffield, Southampton, St Albans, Stoke-on-Trent, Sunderland, Truro, Wakefield, Wells, Westminster, Winchester, Wolverhampton, Worcester and York.
###