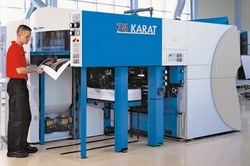 We're delighted to have been able to purchase this particular press.
(Vocus) October 27, 2010
Precision Disc Manufacturing Corp., a DVD CD manufacturing company located in Surrey, B.C. Canada, is pleased to announce the purchase of a KBA 74 Karat 29" waterless digitally integrated offset press.
The KBA 74 Karat is considered to be one of the 'greenest' print presses on the planet and, while Precision Disc requires an eco-friendly printer for their line of DVD CD eco-packaging solutions, the KBA 74 Karat also delivers very high quality print reproduction for their discerning DVD CD industry clientele.
"We're delighted to have been able to purchase this particular press." states company president
Paul Durnie, "It fits perfectly into our mandate for environmentally responsible technology and processes, and it's the perfect fit for growing our print division and new 'green' product offerings. The press-sheet size, quick make-ready and printer speed made the 74 Karat a must-have for us."
For a 29" printer of this calibre, the KBA 74 Karat features a very compact footprint with minimum space requirements and is designed for efficient and cost-effective one-person operation. Virtually all functions are controlled directly from the operating console at the delivery side of the printer.
The KBA 74 Karat uses waterless PEARLdry plates which are held in two cassettes of 20 plates each - sufficient for 10 jobs. Plate imaging and plate changing is fully automated within the printer, and used plates are unloaded and dropped into a storage tray before the new plates are drawn in.
A complete job change with automated plate change, imaging and inking only takes about 15 minutes, with a maximum of just 10 make-ready sheets before you're producing saleable product. A maximum production speed of 10,000 sheets per hour and waterless offset plates allow runs of up to 100,000 copies.
Precision Disc's KBA 74 Karat printer features in-line finishing, which permits immediate printing of the reverse side of the sheet after renewed imaging of the printing plates. Thanks to a drastic reduction in drying time, as a rule, it's possible to cut the coated sheet after only an hour. The result of which is shorter delivery times and more jobs produced per day.
This press does away with paper waste, ink sludge, toxic cleaners and chemical developers that are typically associated with offset printing. By using Pearldry ablative printing plates, the developing process has been eliminated and, after imaging, the plates can be cleaned with a special dry cleaning system so they are ready for printing.
Through its use of soy based inks, completely waterless printing technology, and inline aqueous coating, the KBA 74 Karat provides the highest quality eco-friendly print solutions you'll find anywhere.
Printer features and highlights:
Colour and register stability:

Within each individual print
Throughout the entire run
From run to run
From the 10th sheet onwards
Top high-end offset quality:

Waterless offset – brilliant colour, sharp dots
Soft reproduction of the finest gradients
No ghosting
Superb solids
Integrated varnishing unit:

Water based (aqueous) varnishing for immediate printing of the reverse of the sheet using the same forme, for faster finishing and product refinement.
Standardised printing process:

Solid densities and tone reproduction to ISO 12647-1/2/3
Colour management (match-the-proof)
Repetitive accuracy
Cost-effective high quality offset printing:

For runs of 500 to 10,000 sheets
Fast job throughput, from RIP to production printing approx. 15 minutes (job dependant)
Make-ready: 10 sheets
One operator for CTPress and printing
Specifications:

Press dimensions (L x W x H): 12'-9" x 7'-3" x 7'-0"
Weight: 26,500 pounds
Power: 65kVA
Max sheet size: 29.125" x 20.5"
Max speed: 10,000 sph (job dependent)
Resolution: 100 dots/mm = 2,540 dpi
RIP: Creo Brisque
###