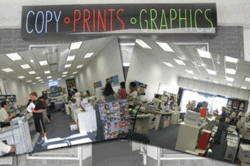 Los Angeles, CA (PRWEB) June 28, 2013
LA Copy and Print Center is pleased to announce that they are now offering same day business card printing services. Customers can now get high quality, full color business cards in just hours. Get business cards just in time for a meeting, conference, or convention.
Business cards have been the preferred method of advertising for over a century. Everyone from physicians to executives, and even top college professors rely on this marketing tool to provide a convenient means to pass on their contact information to patients, clients, and other professionals. Although digital media have replaced many other paper items for businesses, nothing beats the convenience and portability of a business card. Almost everyone in the workforce can benefit from having high quality business cards on hand whenever they are working, whether they are on location in their office or away on business.
LA Copy and Print Center, a printing company in Los Angeles, offers the next generation of full color business cards. These cards feature lifelike color and a print quality that rivals 35 millimeter print quality. Include full color graphics and logos, maps to the location of the business, coupons, and much more, all in sharp detail.
LA Copy and Print Center offers more options for printing in Los Angeles than just business cards and paper copies. Customers can also select flyer printing, T shirt printing, sign printing, full color custom banners, personalized office supplies, poster printing, graphic design services, and much more.
Trust LA Copy and Print Center for all company or individual printing needs. They offer complimentary pickup and delivery in Los Angeles County for orders more than $250. LA Copy and Print Center is open six days per week, Monday through Saturday, with extended hours to help meet the customer's needs and to help provide same day service for customers who need their business cards or other custom print services the same day.
Stop by LA Copy and Print Center to place an order for business cards or call to ask questions about their services. Knowledgeable graphic designers and representatives are waiting to help customers with all of their printing needs.
Contact
Los Angeles Copy and Print Center
9130 B. Reseda Blvd.
Northridge, CA 91324
Phone: (800) 554-2202
Website: http://www.lacopycenter.com