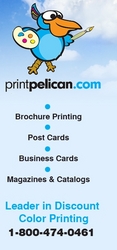 We have some of the finest equipment and technology available in the printing industry,
Riviera Beach, FL (Vocus) July 29, 2009
Print Pelican, a South Florida discount printing company specializing in full color, digitally printed brochure, business cards, postcard, calendar, magazines and all types of promotional materials, announced they have expanded their plant with the latest in printing technology, offering an enhanced web store with better printing service, lower pricing and FREE shipping.
Print Pelican's "Prints for Less" philosophy is reflected in their website, making it easier for customers to get a quote, customize and submit their order using a simplified, user-friendly process for their full color booklets, brochures, magazines, business cards, and calendars.
"We have some of the finest equipment and technology available in the printing industry, "said Grant Morris, President of Print Pelican. "Our plants operate 24/7 and this allows us to be very competitive and responsive to your printing deadlines. We are also committed to the future. We are always looking at new ways to make our plants more efficient and productive."
Print Pelican's online color printing solutions make their customer's convenience the first priority, with a unique instant quote and online proofing system. All printing jobs are completed in accordance with industry-wide standards for commercial digital printing and registration, guaranteeing satisfaction and a quality product.
"First of all, I want to thank you all for a great job in turning this last project around for Optimal," said Bob Norris of Graphix of America Inc. of Print Pelican's expanded services. "The client is extremely happy and frankly I'm amazed at what you were able to pull off in such a short window. Congratulations.... you truly have the best print shop in the country."
About Print Pelican:
Print Pelican is a South Florida printing company offering an extensive variety of commercial printing services including short-run brochure printing, magazines / booklets, catalogs, business card printing, postcards and much more. PrintPelican.com also offers variable data UV coated post card printing.
In addition to their high quality services they also offer direct mail service.
The company also offers great affiliate program for graphic designers, bloggers to make money by promoting Print Pelican Affiliate program.
###