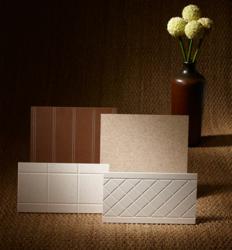 Milwaukee, WI (PRWEB) May 24, 2011
Now designers have a way to create attractive patterns and designs in solid surface wall cladding and wainscoting. In addition to smooth sheet, InPro PRISM® Decorative Wall Panels come in nine distinctive designs: 4", 8" and 12" squares; Diamond; 6' x 24" Horizontal; Beadboard; 3' x 6' Subway; 10" x 8" Stacked; and Plankboard.
In addition, five-inch-high Listellos come in four pleasing designs – Matrix, Diamond Accent, Tudor and Eclipse – giving designers the ability to enhance border treatments or add distinctive accents.
Through an etching technique, InPro applies the design directly onto the PRISM solid surface sheet, which maintains the sheet's non-porous integrity. Best of all, unlike porcelain or ceramic tile, there is no need for seaming caulks or grouts. With a variety of colors and patterns, PRISM Solid Surface offers a broad choice to match any décor.
The easy-to-clean PRISM solid surface sheets do not promote the growth of mold or mildew, and are a perfect solution for restroom partitions and shower and tub surrounds.
Solid Surface sheets up to 4' x 12' allow for seamless installation without batten strips or moldings. In addition, InPro offers a sheet optimization program – custom-sized sheets can be made in virtually any dimension to match specific projects, thus greatly reducing the need for custom cuts or fabrication onsite. Installers simply unpack the PRISM product and start putting it on the wall.
To learn more about InPro Decorative Surface and the new solid surface wall panel designs, visit inprocorp.com, or call 877-780-0034.
BACKGROUND
InPro Corporation – Based in Muskego, Wisconsin, InPro is the nation's premier manufacturer of building products, offering the most choices and best service in door and wall protection, decorative surfaces, expansion joint systems, cubicle track & privacy curtains and signage & wayfinding. InPro products are used in the healthcare, senior living, hospitality, education, government, marine and retail sectors.
The company leads the industry with the first biopolymer wall protection – InPro's exclusive G2 Blend® made from BioPolyPETG+™ material containing both a biopolymer and recycled content.
For more information on InPro Corporation, visit http://www.inprocorp.com, or call 800-222-5556.
###