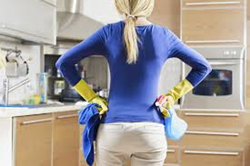 Karen K, Edmonton,AB - " Some of the friendliest, most honest staff. Always a perfect clean, that doesn't hurt my budget"
Edmonton, Alberta (PRWEB) May 14, 2014
Pristine Clean Residential Cleaning has announced the opening of an office in Edmonton, Alberta. Specializing in residential cleaning services, the company is one of the first to focus on using environmentally friendly cleaning solvents in order to reduce environmental impact and homeowner chemical sensitivity. The company selects cleaning solvents and chemicals in recognition of the growing problem of chemical sensitivity.
Pristine Clean opened its residential cleaning office to serve the Edmonton area with a bonded, insured service. "We believe that homeowners want a reliable, trustworthy service," said Ashley Pacaud, owner and founder of Pristine Clean." When a homeowner hires a service that is in their home, they want to know that the privacy and safety of their home will be respected. That is what we guarantee."
The company uses eco-friendly cleaning products to reduce environmental impact, and to accommodate potential homeowner sensitivity to cleaning products. As a nation, Canada is very aware of the sensitivities that some people have to fragrances and chemicals, and increasingly public areas are becoming "scent free".
Pristine Clean uses products that clean the indoor environment rather than contribute to toxic indoor air quality. Pristine Clean is trained to assist homeowners to prepare their homes for quick sale in the real estate market. Today's market often requires "staging" of the home to enhance its appeal to a broad range of potential home buyers. Pristine Clean is professionally trained as part of the team that prepares the home for sale.
The company is fully staffed and is accepting new clients looking for residential cleaning services in Edmonton.
For more information:
Ashley Pacaud at Pristine Clean, 780-399-1626.
e-mail: pristinecleanedmonton(at)outlook(dot)com
http://www.pristinecleanedmonton.com