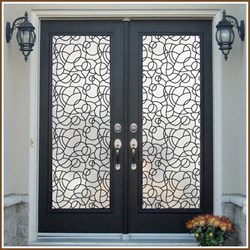 For security, the team developed leading lines that are so strong-looking that most 'trouble' will look for an easier target.
Cocoa, FL (PRWEB) September 17, 2013
"Create a privacy window film design that adds a look of security, won't darken the room and is reflective of the name 'Odyssey'" was the task management set for the Wallpaper For Windows design team.
Having created over 50 designs already, the team was confident they could develop a privacy design that captured the essence of 'Odyssey'. Needing the look of security was unique for this project. Initially, team members considered the look of wrought iron and the security it imparts. However, after much deliberation, a more artistic direction was selected - one that could create 3 different looks (2 privacy designs and 1 see-through) from a single pattern.
After months of work, the design is complete. Odyssey features a flowing, fluid design of leading lines that is very versatile and can be used with decorating styles from modern and contemporary to casual to country. For security, the team developed leading lines that are so realistic and strong-looking that most 'trouble' passing by, would look for an easier target.
For those that like to decorate with color, there is a stained glass version of Odyssey which creates privacy with a relaxing color palette of blues and greens. It is recommended for residential and commercial settings to add a look of security with a decorative touch of color.
For a more low-key look, the privacy Leaded Glass Odyssey combines the leaded pattern with Lite Frost to create a colorless window treatment with a look of security. (The 3rd version is a see-through leaded glass design.)
Use this design to decorate and add privacy to windows, glass doors, showers and more. Odyssey is made with Wallpaper For Windows special adhesive-free static film, so it is easy to apply, will look good for years, filter UV rays, reduce heat and save energy. Designs are available in a variety of sizes, from 24 x 43 inches to as large as 48 x 86 inches.
Visit http://www.wallpaperforwindows.com to see all of the decorative and privacy window film designs available.
About Wallpaper For Windows™
Etch Art LLC has been creating stunning wallpaper for window art and, over the years, they have sold more than 500 miles of Wallpaper For Windows™, covering countless doors and windows and improving the living space in thousands of homes and offices.
They are so proud of their services that they offer one of the best warranties in the business: products are guaranteed to be free of manufacturing defects, and will retain their good looks and adhesion for a minimum period of three (3) years from time of purchase.
Contact:
Toll Free (800) 320.8439 - Phone
(866) 303.3350 - Fax
EtchArt, LLC
3732 N. US Hwy 1, #5
Cocoa, FL 32926