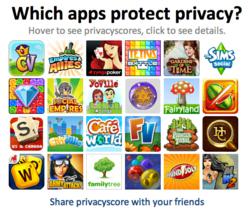 "Now you can see the privacy risks before you give an app permission to use your Facebook profile."
Santa Cruz, CA (PRWEB) April 22, 2012
PrivacyChoice today announced the launch of Privacyscore for Facebook, the first and only privacy guide to the Facebook app universe. With Privacyscore, Facebook users can now see and instantly understand which apps protect their privacy and which don't, and can know if they'll be tracked and by whom. Like a privacy warning system, the Privacyscore add-on shows users an instant privacy rating (0-100) for the apps they use, before they give the app permission to use their Facebook profile.
"Hundreds of millions of people use Facebook apps every day, sharing personal profile information widely across thousands of app providers," said Jim Brock, PrivacyChoice Founder and CEO. "Each app provider has its own privacy policies, which in many cases lack even minimal assurances. Our research also revealed that those apps bring in scores of third-party tracking companies, which in many cases also lack basic protections, choices and oversight."
"Facebook doesn't control or enforce app privacy practices, so it's up to users to know the privacy risk of sharing personal data with apps. Now users can easily check the Privacyscore for an app before allowing access to their own personal data and their friends' profiles."
A privacy benchmark for app publishers
PrivacyChoice today also published research comparing the Privacyscores of the top app publishers based on scans of their most popular apps, giving Playdom the most favorable rating of 93 out of 100 Privacyscore points. Electronic Arts (91) was the only other top app publisher with an A-level rating. Other popular app publishers fell below that standard, with Zynga at 82 and K-Factor Media at 72. The average Privacyscore for all Facebook apps reviewed was 78 of 100. "Facebook users deserve better than a C-plus when it comes to their privacy," said Brock.
A privacy barometer for the social network
As a service to the Facebook community, PrivacyChoice also unveiled the Facebook Tracking Heatmap, a stunning visualization of privacy risk across hundreds of top Facebook apps. Orange and red zones on the heatmap, which indicate companies with heightened privacy risk, represent a significant portion of all tracking activity on Facebook apps. Built on the Privacyscore Analytics platform, the Heatmap links to detailed evaluations of over 640 tracking companies in the exhaustive PrivacyChoice trackerlist index.
"A glance at the Heatmap shows that there's a lot of work to do to bring popular apps into line with best privacy practices, " Brock said. "By publishing this information in real-time, we've created the first privacy barometer for the Facebook app universe. We now have an objective way to measure progress toward better app privacy practices all across publishers and ad companies collecting user data through Facebook."
An essential element for better online privacy
Today's launch comes at a critical time for online privacy. In a major privacy report last month, the Federal Trade Commission called for greater transparency in the communication of privacy practices to users. The Commission specifically cited Privacyscore as a new tool with promise to enable consumers to better compare website privacy practices.
"The industry is moving toward a Do Not Track standard premised on a high degree of trust in compliance by tracking companies," Brock said. "Tools like Privacyscore help web users, websites and advertisers understand which companies have stepped up to compliance and which have not. The success of industry-wide privacy efforts depends on the kind of transparency that Privacyscore provides."
Links
Privacyscore for Facebook Apps: http://apps.facebook.com/privacyscoreapps
Facebook Privacy Heatmap: http://www.privacyscore.com/heatmaps/facebook-apps
Privacyscore FAQ: http://www.privacyscore.com/faq
PrivacyChoice on Facebook: http://www.facebook.com/privacyscore
About PrivacyChoice
The PrivacyChoice mission is to make online privacy easier. Founded in 2009, PrivacyChoice offers a suite of privacy tools and data for tracking awareness, tracking control, privacy analytics, and automated website and app privacy disclosure. PrivacyChoice also powers privacy applications by companies like Reputation.com and Keynote Systems, and have been featured multiple times in the Wall Street Journal's online privacy coverage and Federal Trade Commission reports.
Contact:
Jim Brock
PrivacyChoice
101 Cooper Street
Santa Cruz CA 95060
jim(at)privacychoice(dot)org
408-641-9290
@privacychoice