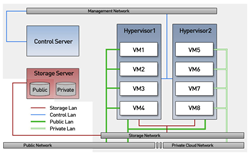 Over the course of one year, AWS would cost a user $22,365.72 more than a private cloud hosting solution.
Miami, FL (PRWEB) June 01, 2017
A new report published May 16, 2017 by ServerPronto University shows that AWS and other popular public cloud hosting solutions cost more than 3x that of private cloud hosting options. The report uses publicly available pricing information and Amazon's own monthly cost calculator to find and compare the cost of these two hosting options.
The price comparison was made using the following server specifications:

64GB RAM
16 cores
2TB storage
40TB traffic
The price for AWS came out to $2,762.81 a month while the private cloud offering costs only $899 a month. In other words, over the course of one year, Amazon's public cloud hosting solution AWS would cost a user $22,365.72 more than a private cloud hosting solution.
What are public and private cloud hosting solutions, and what makes them different?
Cloud hosting, also referred to as cloud computing or simply the cloud, is a hosting solution which combines and virtualizes the resources of multiple dedicated servers. This creates a single, large pool of resources with high redundancy and availability. Typically, servers are assigned to roles such as storage or computing. This enables an end user to scale up or down their services as needed.
The difference between public cloud hosting and private cloud hosting is simple. A public cloud is utilized by multiple tenants who each rent out some of the cloud's resources. This is the service offered by Amazon Web Services (AWS), Microsoft's Azure, Google Cloud Platform and more. A private cloud is a cloud setup which is utilized by a single tenant. The difference is small, but it does make a big impact.
For example, with a public cloud you only pay for the resources you need (typically by the hour) while a private cloud will require you to pay the same monthly rate, regardless of whether all available resources have been utilized. However, as we see, the price difference can be significant and as such, many businesses are now considering a private cloud hosting solution instead of a public cloud hosting solution.
About ServerPronto and ServerPronto University
ServerPronto has been a leader in dedicated server hosting for over 15 years. In 2012, the company came under new ownership which resulted in a more customer oriented approach. As part of that new approach, ServerPronto University (SPU) was born. SPU features educations articles, tips, and news on server related and IT topics.