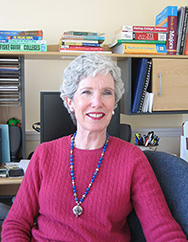 My involvement in college admissions began with my own sons 15 years ago
Greenbrae, CA (PRWEB) November 14, 2011
Gael Casner has been involved in the New York and California school systems for more than 20 years. During that time she has been committed to helping students achieve their educational goals, and is offering her valuable experience in guiding students in writing different types of essays. Whether for college application essays or scholarship essays, or any essay that demonstrates a student's writing skills, she is inviting everyone to visit her and learn the different aspects in how to maximize a student's writing potential. Gael Casner first helps students strategize which topics best represent them and then encourages students through the writing process.
Gael Casner is a San Francisco college advisor and college counselor at College Find and is dedicated to helping students generate solid education plans that suit their strengths. She is employed by UC Berkeley as an evaluator and reader of freshman applications; through this, she gained the ability to evaluate the strengths and weaknesses of a student's application essay and examine what should be done to improve their skills.
"My involvement in college admissions began with my own sons 15 years ago. Since then, I have visited and/or researched hundreds of schools. In addition to maintaining a practice on both coasts, I read applications for UC Berkeley. I love this work, especially motivating students to do their best through the process," Gael Casner of College Find.
Gael Casner a San Francisco college counselor is currently accepting high school freshmen, sophomores and juniors. Visit her and her colleagues at College Find located at 123 Bretano Way Greenbrae, CA. Call 415-461-8589 or visit http://www.collegefindedu.com/about.html#gael to learn more about Gael and the facility.
About College Find
College Find, San Francisco's private college consultants, works with students throughout San Francisco and the greater bay area, helping future college students navigate the complex world of college admissions with confidence. College Find specializes in identifying the best college matches in order to maximize the number of acceptances.
###