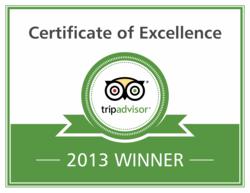 San Francisco, CA (PRWEB) June 11, 2013
Blue & Gold Fleet is making waves in the Bay thanks to their efforts in a heroic kayak rescue and in winning a TripAdvisor Certificate of Excellence. On May 26, 2013, during a routine ferry transit near Sausalito, Blue & Gold Fleet operators aboard the vessel "Bay Monarch" observed a distressed overturned kayak. The Bay Monarch was quickly diverted and advanced towards a person in the water.
As the vessel approached, Blue & Gold Fleet operators observed two victims: one adult male struggling in the water and a second younger female child clinging to the overturned kayak. Demonstrating superb and precise ship handling skills, the Blue & Gold Fleet crew quickly retrieved both victims from the cold water. Once onboard, the crew performed basic first aid while treating the victims for hypothermia.
The Blue & Gold Fleet crew, which included Captain John Stilz, Senior Deckhand Shannon McNutt, Deckhand Sharon Edwards and Deckhand Robert Grange, were commended for their outstanding service, professionalism, and dedication to routine emergency drills, which resulted in a flawless, lifesaving operation.
This commendation further underscores the excellent service and skills Blue & Gold Fleet operators provide to passengers. This Bay Cruise provider was also recently awarded a Certificate of Excellence by respected travel website TripAdvisor. This award is given to businesses that consistently earn high ratings from TripAdvisor travelers and places Blue & Gold Fleet among the top-performing 10% of all businesses worldwide on TripAdvisor.
For more information about Blue & Gold Fleet and their services, visit http://www.blueandgoldfleet.com/
About Blue & Gold Fleet
Blue & Gold Fleet is the Bay Area's largest and premier provider of Bay Cruises, Ferry Service and Motorcoach Tours. While they live for intrigue and adventure, safety is the cornerstone of their entire operation. That's why their experienced captains, crew, reliable vessels and buses ensure their guests a safe, comfortable experience around San Francisco and the Bay. They are also proud to be a national leader around sustainable and environmental practices, as shown through their numerous awards. Located at PIER 39 in San Francisco, Blue & Gold Fleet offers sightseeing tours such as Bay Cruises; the Bay Area's only white knuckle ride on RocketBoat; and scheduled ferry service to Sausalito, Tiburon, Angel Island, Vallejo, Alameda and Oakland. Additionally during baseball season, they provide ferry service to and from AT&T Park. On land, their comfortable Motorcoach Tours take visitors from around the world to some of the most incredibly beautiful tourist attractions in San Francisco and Northern California.