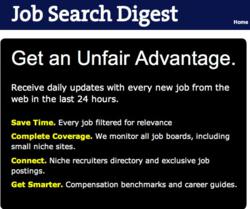 This training session presents an exceptional case study... a live analysis of this $16 billion deal.
San Diego, CA (PRWEB) April 15, 2013
The purchase of Goodrich Corporation by United Technologies presents an exceptional case study. Job Search Digest invites MBA students and financial professionals to register today for a live analysis of this $16-billion deal, one of the largest in the aerospace and defense industry. The free session will take place online on April 16, 2013 at 1 p.m. ET (10 a.m. Pacific), and all participants will be entered to win one of several valuable prizes.
The deal, which closed in July 2012, represented a move by the diversified business conglomerate United Technologies to get back into the commercial aircraft market and begin to build market share. In subsequent quarters, UTC exceeded analysts' expectations and overall investor sentiment turned more positive.
Said David Kochanek, publisher of JobSearchDigest.com, "This webinar will set up the basic model to analyze the transaction, look at why it worked out well for both sides, and consider whether it was possible to predict the combined company exceeding EPS guidance in the quarters after it closed."
"Breaking down this deal in particular provides valuable insight into projecting financial statements," continued Kochanek. This training is essential for MBA's who need additional valuation and modeling skills (or a refresher course), graduates seeking an analyst position, financial professionals looking to transition to private equity careers, or industry professionals who want to fine-tune their existing financial skills.
Register online today at https://www2.gotomeeting.com/register/151552514
All participants who complete the April 16 session will be entered into a drawing to win one of three exclusive bonuses: full access to the complete Breaking into Wall Street Financial Modeling program (a $347 value); a full year of a Job Search Digest Premium subscription of his/her choice (a $197 value); and one lucky participant will win a Kindle Fire HD worth $199!
About JobSearchDigest.com
Since 2002, Job Search Digest has provided web-based career services catering to investment professionals. JobSearchDigest.com serves its members by providing a human-edited investment jobs database for Private Equity, Hedge Fund and Investment Banking professionals. Its database provides the best picture of hiring in the industry. The company provides unmatched convenience to its members, saving them time and providing the most comprehensive database of jobs and industry-focused career advice.