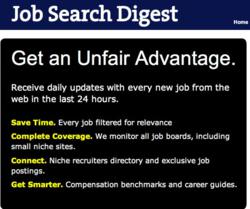 Learn the most common cover letter mistakes and how to avoid them.
San Diego, CA (PRWEB) May 08, 2013
Looking to land a job at a private equity, hedge fund, or investment banking firm? Join JobSearchDigest.com and résumé expert Debra Wheatman on May 14 for a live training session to learn how to turn a weak cover letter into one that opens doors and gets interviews. The free one-hour session begins at 1 p.m. Eastern (10 a.m. Pacific).
"There's no such thing as an effective generic cover letter," said David Kochanek, publisher of JobSearchDigest.com. "To land interviews, a cover letter must address a firm's specific needs. For this session, we've invited résumé expert and career coach Debra Wheatman to show the process behind creating a cover letter that grabs employers' attention."
Wheatman is a Certified Professional Résumé Writer and Certified Professional Career Coach. She has extensive experience working with finance professionals at all levels to create roadmaps for career success. Wheatman is a frequent contributor to television and print media, and the author of "The Career Doctor" blog.
"This session is essential for financial professionals seeking employment at private equity, venture capital, or investment banking firms," continued Kochanek. "Participants will learn the elements of an effective cover letter, the most common cover letter mistakes and how to avoid them, and how to research a firm before writing a cover letter. They will also have the opportunity to review real cover letters – before and after a professional fine-tunes them."
Register today (https://www2.gotomeeting.com/register/772574906) and get ready to learn what it really takes to create a cover letter that gets you noticed!
All registered participants who complete the May 14 session and leave feedback will be eligible to win one of two exclusive bonuses: a one-on-one consultation with a professional career coach to review his/her résumé; or a full year of a Job Search Digest Premium subscription of his/her choice (a $197 value). Two winners will be selected from the group of participants after the session.
About JobSearchDigest.com
Job Search Digest is a web-based career service catering to professionals in private equity, venture capital, and investment banking since 2002. Each day our team researches all the online job boards (including the specialty niche sites) and captures the most relevant Private Equity jobs and Venture Capital jobs — giving you a competitive advantage in your job search. To start your search and obtain instant access to our private equity jobs database, simply register for a free or premium membership today.