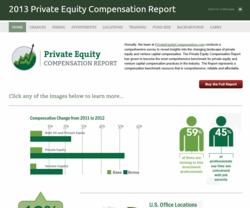 We're seeing firms moving quickly to match compensation expectations with substantial increases in both base pay and bonuses this year.
San Diego, CA (PRWEB) January 30, 2013
Trends revealed in a recent survey by PrivateEquityCompensation.com suggest private equity remains one of the strongest segments in the financial industry. The sixth annual Private Equity and Venture Capital Compensation Report indicates 2013 will include substantial increases in compensation across the board, additional hiring, and greater levels of job security and satisfaction for private equity and venture capital professionals alike.
Double-digit increases in compensation are anticipated by 46 percent of respondents, with 62 percent expecting some rise in salaries and bonuses, up from 46 percent last year. Only 30 percent of professionals predicted pay would remain unchanged, compared to nearly half of respondents who expected to receive the status quo in the previous year. Just eight percent assumed lower comp levels in 2013.
"Optimism is by far the clearest takeaway from the survey," said David Kochanek, Publisher of PrivateEquityCompensation.com.
Surprisingly, firms with fewer than 10 employees have taken the lead in terms of both base pay and bonuses. By offering higher compensation, these firms are recognizing the demands of a small team environment, including greater responsibilities and knowledge. Said Kochanek, "This should help mitigate some of the flow of professionals away from small shops as the big players begin to ramp up recruitment next year."
Firms are expecting organization-wide increases in compensation. Last year, the majority of increases were allocated to lower-ranking team members. This year, senior personnel will also benefit: Partners expect a 21 percent pay increase, versus last year's predicted decrease of 27 percent.
On average, PrivateEquityCompensation.com found that annual compensation for private equity and VC professionals rose 16 percent to $273,000 US.
As compensation is rising, so is satisfaction with pay packages: 56 percent of respondents reported happiness with their salaries and bonuses, up from 41 percent and 36 percent in the last two years respectively.
Kochanek explained, "While some might conclude that compensation satisfaction is a sign that competition is slowing down in private equity, the Private Equity and Venture Capital Compensation Report also identified hiring trends that don't seem to support that. In fact, it's more likely that the substantial increases in compensation we saw in this year's survey are a result of firms striving to retain their top talent."
Of the firms responding, 59 percent indicated hiring intentions. Last year, just one in three firms anticipated adding staff. Said Kochanek, "The majority of firms plan to bring more investment professionals on board, instead of reducing staffing. This level of job security hasn't been seen in a number of years."
Concludes Kochanek, "Top talent will always migrate toward where the opportunity and compensation are strongest. Small- and medium-sized firms will have their hands full preventing an exodus toward bigger shops. It's encouraging to see the smaller players already taking steps to ensure competitive compensation."
About The Report
The 2013 Private Equity Compensation Report is based on an industry survey conducted in October and November 2012. Data was collected directly from hundreds of private equity and venture capital partners and employees. A summary of the 2013 Private Equity Compensation Report can be found at http://www.2013privateequitycompensationreport.com
About PrivateEquityCompensation.com
PrivateEquityCompensation.com is a division of Job Search Digest, a web-based career service catering to professionals in private equity, venture capital, and investment banking since 2002. Annually, the firm collects compensation data directly from hundreds of private equity and venture capital partners and employees from firms both large and small.