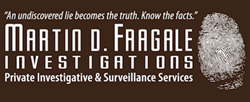 Charlotte Private Investigations, Martin D. Fragale list reasons why to hire them.
Charlotte, North Carolina (PRWEB) March 18, 2012
This press release covers Martin D. Fragale Investigations. The company has been in existence for 15 years, having being founded in the year 1994 by Martin D Fragale. For the last 15 years the company has been offering exceptional services to many clients. Their newly launched website is ncprivatei.com and it offers many tips and advice for potential clients. One of the main tips given to clients is reasons to hire the right private Investigation firm and how to spot the bad ones.
1- Education - Make sure the owners, partners or investigators have some education or knowledge of the legal system. In many cases private investigators can be called as witnesses or to give information in court so have some school credentials will be helpful
Martin Fragale is a graduate of criminal justice degree. Before founding the company he worked as a co-owner and Senior Investigator in New York for 10 years.
2 - Confidentiality - Make sure the case is concealed and kept confidential between the investigation firm and the client. Be sure to have the firm sign documents stating that the case remains between both parties.
Fragale investigators have a strong commitment to their customers with full guaranteed confidentiality. From the initial stage of making a phone call to the finishing steps of a case or any information being submitted through letters or their website you are assured of full confidentiality. Fragale investigators have core values that are quite unique in the private investigation area. It is founded on an exceptional work ethic and commitment to the truth. It is possible that long hours are required getting in formation to clients. When the company accepts to undertake a case it proudly accepts the immense responsibilities that are coming with it.
3 - Location - Be sure that the firm hired works within a close proximity to the case so they are easily accessible.
Fragale Investigators located in the Charlotte, North Carolina Metropolitan area, is a discreet, full service private investigative, private detectives and surveillance company that offers professional private investigative services for both South and North Carolina.
For more of these tips you can visit Martin D. Fragale Investigations online
A little about Martin D. Fragale Investigations:
Some of the services they offer include but not limited to: worker's compensation cases, family/domestic/matrimonial cases, child support/child custody/corporate business issues and liability cases/activity checks/court testimony.
Martin is highly regarded in the private investigation field because he offers great quality, discreet and confidential service, exceptional work ethic and strong integrity in the field. He has over 15 years of working experience of which he has produced amazing results.
Fragale Investigators has a highly qualified staff. The staff is well-trained in the areas of criminal justice and private investigation. The staff is also technology savvy and can therefore handle cases that are technology related or require use of advanced technologies. The staff can be considered as a dedicated team of experts who are committed to exceptional work ethic.
Other principles that govern the Fragale Investigators include discreetness and confidentiality, and committed to truth. There are no falsehoods associated with this company and they strive to ensure that there data is correct and their investigations are accurate.