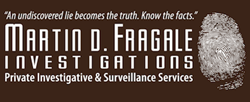 Martin D. Fragale Investigations recently updates their services.
Charlotte, North Carolina (PRWEB) September 29, 2012
Recently Martin D. Fragale Investigations has been making a name for themselves in Charlotte, North Carolina. Martin D. Fragale Investigations is a discreet, full service private investigative, private detectives and surveillance company located in the Charlotte, North Carolina Metropolitan area. They provide professional private investigative services for both North Carolina and South Carolina.
Recently Martin D. Fragale Investigations has updated their website with all new services. Fragale updates their website regularly to help inform their customers of their services and coverage areas. Fragale is always expanding their knowledge as well as the areas they service. Here are the services they recently added to their website.
BACKGROUND INVESTIGATIONS
Criminal History Search
Civil Record Checks
DMV Searches
Professional License Verification
Reference Checks
Social Security Verification
Bankruptcy, Judgments & Lien Searches
Asset Locates
Property Searches
TRIAL PREP ATTORNEY SERVICES
Trial Prep
Subpoena Service
Notary Service
Site Investigations
Records Retrieval
Court Filings
Witness Statements
Witness Locates
SPORTS AND RECREATIONAL
ACTIVITY INQUIRIES
Hunting/Fishing Licenses Check
Watercraft Ownership
Aviation Checks
MATRIMONIAL INVESTIGATIONS
Infidelity Matters
Office Relationships
Undercover Operations
Domestic Investigations
Spousal Surveillance Services
Family Law
Child Abduction Issues
Asset Locates
All Digital Equipment
Hidden/Covert Cameras
Telescopic Lenses
Customized Surveillance Vehicles
DVD Video Transfers
Seasoned Surveillance Professionals
CRIMINAL DEFENSE
INVESTIGATIONS
Witness Locates
Witness Interviews and Statements
Alibi Reinforcement Interviews
Crime Scene Investigations
Correctional Institution Interviews
INSURANCE CLAIMS and
LEGAL SERVICES
Workers' Compensation Investigations
General Liability Investigations
Disability Investigations
Site Investigations/Inspections
Activity Checks
Alive and Well Checks
First & Third Party Fraud
Witness Locates
Subpoena Service
Notary Service
SCHOOL DISTRICT SERVICES
Address History Checks
Primary Residence Checks
Utilities Checks
Landline Reverse Searches
Student Residency Checks
Surveillance
Neighborhood Canvasses
Investigator Testimony
Fragale has been getting great reviews from customers for the new update. For more information visit them online http://www.ncprivatei.com.
Martin D. Fragale Investigations