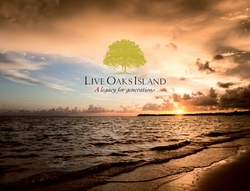 Nearby City, Beaufort SC, was featured by Southern Living as the "Best Small Southern Town"...
Beaufort, South Carolina (PRWEB) June 3, 2010
McVay Realty, owner and developer of eight home sites on the island paradise of Live Oaks Island, announced today that it has reduced its selling price for the entire private island to $4.5 million.
Live Oaks Island, one of the last of its type to be offered for sale, is the perfect private island getaway. The island is a 12-acre paradise nestled in one of the most pristine wildlife estuary along the east coast of South Carolina. Despite the fact that Live Oaks Island is secluded, it lies only 8 miles from the historic Beaufort and 20 miles from the modern Hilton Head Island.
Interestingly enough, Live Oaks Island is accessible by boat or even by car. Yachts can safely anchor and launch on the island as water depth reaches 9 1/2 feet even during low tide. By car, the private island can be accessed via a half a mile gated, locked, lined with palm trees causeway.
There are only eight home sites on Live Oaks Island. All of these lots encircle the private island. Every site has a panoramic view of the ocean, the islands nearby, the Morgan River, and the blue-green marshland. Home sizes range from 0.75 to 1.2 acre. All properties are complete with utilities and permits are in place. The home sites were purposely designed to give each property an unparalleled privacy. No other homes or lights can be seen from any of the plots on the island.
Live Oaks Island is also nearby two very interesting places: St. Helena Island and ACE Basin National Wildlife Refuge. St. Helena Island, one of the Sea Islands in Beaufort County, South Carolina, is widely known as the most unspoiled private island on the Atlantic Coast. It is also famous for being the center of African-American Gullah culture. The ACE Basin National Wildlife Refuge, meanwhile, remains one of the largest undeveloped marshlands on the Atlantic Coast.
The private island for sale is not only an ideal getaway to rest, it is also perfect for relaxing type activities such as nature walks, bird watching, boating, fishing, shrimping, and crabbing.
Whether you are looking for a peaceful getaway, looking for a serene place to do relaxing activities, or simply looking for a place with superior investment potential, look no further as Live Oaks Island is the place for you. Grab the opportunity now to buy the entire private island at a reduced sale price of $4.5 million.
# # #