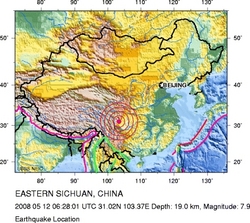 The 7.9-magnitude quake two days ago killed at least 14,866 people, according to state-run China Central Television
New York, NY (PRWEB) May 14, 2008
Imperial Jets, a private jet charter company, based out of New York City, has lead a 2-day effort to locate private aircraft after receiving several calls from survivors requiring transportation out of the quake-stricken area of China. "The 7.9-magnitude quake two days ago killed at least 14,866 people, according to state-run China Central Television," reports Bloomberg.
Jason Ongoco, aviation specialist with Imperial Jets, has been working the phones aggressively seeking aircraft available to fly into the region. Ongoco had originally planned to seek helicopters, as no private jets were readily available. As of May 14, 2008, Ongoco successfully located a Hawker 800 XP and a Gulfstream IV that can fly people seeking extraction from Chengdu, China - about 80 miles northwest of Chengdu.
The Hawker 800 XP seats up to 8 people. The cabin has a width of about 6 feet, height of a little under 6 feet, and length of about 21 ft. The mid-size jet or medium jet boasts over a 3,000 mile range on full tanks. And it has internal baggage capacity of 48 cubic feet.
The G-IV or Gulstream IV seats up to 13 people. The cabin has a width of about 7 ft, height of about 6 ft, and length of about 45.1 ft. The heavy-sized jet or large jet flies a range of a little under 4,800 miles.
"The Hawker would be good to fly people out of the danger zone," added Ongoco. "It's small and you could get them out of the quake-stricken area, and then the G-IV could fly them out of the country if necessary."
Flights to Chegndu Airport were diverted to other airports, as Chengdu Airport was closed following the earthquake. "The Chinese Government rushed 2,000 troops to a dam above the devastated town of Dujiangyan, in Sichuan province, today in an emergency attempt to plug cracks caused by the earthquake," according to Timesonline. The Zipingpu Dam collapse threatens to surge torrents of water into the Sichuan province - the region covering the epicenter of the earthquake.
Do not hesitate to visit us in the event you need to explore the possibility of departing this region on a private jet.
###