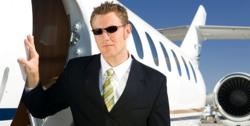 Flying private is more convenient and saves time
Los Angeles, California (PRWEB) April 20, 2013
High net worth individuals and corporate executives in the market for private jet charters and sales now have access to even more resources through ClassyJets.com.
Dozens of companies online offer vacationers and business professionals options for traveling in style by private jet – with each touting that their company offers the best service at the lowest price, so who does one trust? ClassyJets.com gives customers resources about flying private: sales, charters and prices for buying empty legs.
Fractional jet ownership allows corporate executives the ability to only buy the hours needed, and the planes come fully staffed and maintenance is included – all for a fraction of the price of buying a plane outright. Celebrities, high net worth families, CEOs and even billionaires have embraced the new business model because millions of dollars are saved each year.
Brokers with international private jet companies in the United States, Europe, Asia and the Middle East are working with companies like Gulfstream, Boeing, Bombardier, Challenger, Cessna, Citation, Dassault, Falcon, Hawker, Learjet, and McDonnell Douglas to give customers the variety they need – and ClassyJets.com is adding more resources each week to make the site a one-stop shop for customers who are researching options.
The process of buying empty legs on private jets has become so streamlined that flights are available with as little as 4 hours' notice. And with the discounted price of buying empty legs, flying on a private aircraft sometimes isn't much more than first-class accommodations – especially when travelers book at the last minute when prices are highest. "I've seen a big spike in the use of private planes," says Brian Daniel of The Celebrity Personal Assistant Network. "More and more of my clients are asking about the best private jets because going through the security at airports is simply too time-consuming and frustrating."
Fractional jet ownership also offers travelers the flexibility to upgrade or downgrade the size of the plane, so booking customized trips is a cinch when using companies that have large fleets of aircraft.
Private jet ownership has become so popular that companies have started customizing planes for high net worth families and corporate executives, and http://www.ClassyJets.com makes the resources available as well. Buying an aircraft outright has its drawbacks, though, because then the owner is fully responsible for storage, staffing and maintenance of the plane.