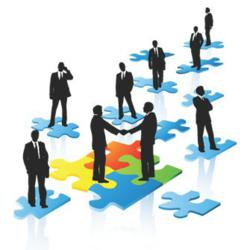 I still meet quarterly with a group of my peers to share physical therapy marketing strategies and even key strategies to help grow our businesses.
Denville, NJ (PRWEB) March 20, 2012
"Like everyone else, my reasons for starting a private practice for example, a physical therapy business, included the need for freedom and independence," said Chhoda. "Whether you took the same path as I did, or are thinking about it, opening up your own practice can be a daunting proposition, especially in a stuttering economy. Here are five key factors that will help your practice thrive, not just survive, in today's competitive climate."
Support systems
A good personal and professional support system provides a source of like-minded individuals with which to consult and listen. Chhoda noted that practice owners must be prepared to act on good advice and be able to handle criticism. Family members offer emotional and mental support on the home front, while professional relationships can be a source of information, resources and growth strategies.
Networking
Chhoda said there's no substitute for consulting with a group of one's peers and assembling a list of contacts. They can help with a wide range of issues, from logo creation, the company website and attracting new patients. "Networking will be important throughout your professional life," said Chhoda. "I still meet quarterly with a group of my peers to share physical therapy marketing strategies and even key strategies to help grow our businesses."
Time management
Concentrate on high value tasks and delegate low value tasks, such as answering the phone, scheduling and faxing paperwork. Such activities can be handled by staff or outsourced. Chhoda said practice owners should be focused on actions that include creating policies and procedures, marketing, and identifying sources of referrals and revenue. That includes making use of office systems that makes everyone's job easier, such as the customizable Therapy Newsletter or Clinical Contact.
The right staff
In service-based industries, customer service is of primary importance. Staff must be able to perform their designated tasks with efficiency, but they must also be able to establish a friendly and knowledgeable rapport with patients. "An unexpected, sincere act of kindness goes a long way toward creating return patients and those that refer your clinic to friends and family," said Chhoda. "Calling a ride for a patient or even opening the door for someone with crutches or in a wheelchair generates an enormous amount of good will that translates into return business."
Role models
Practice owners are so busy taking care of clients, they often neglect their own health. Chhoda said professionals must be role models and practice what they preach. Patients won't seek treatment from a health care professional that constantly looks ill or tired, or one that doesn't exude an upbeat attitude.
As a marketing expert and physical therapist, Chhoda knows the challenges private practice owners face. Chhoda has assisted thousands of practice owners increase their patient numbers and revenues in a booming economy and he's using his experience and five new tips to help practice owners grow their business in a recessive economic climate.
Chhoda's office can be reached by phone at 201-535-4475. For more information, visit his physical therapy website.
ABOUT NITIN CHHODA
Nitin Chhoda is a licensed physical therapist, a doctor of physical therapy, and a certified strength and conditioning specialist. He's the author of "Total Activation: The New 5 Step Fitness Mantra" and "Marketing for Physical Therapy Clinics." He's been featured in numerous industry magazines, major radio and broadcast media, and is the founder of Referral Ignition training systems, Private Practice Summit, the Private Practice Formula and the Private Practice Mastermind group. Chhoda speaks extensively throughout the U.S., Canada and Asia. He's the creator of the Therapy Newsletter, along with Clinical Contact, a web-based service that boosts patient arrival rates.
###