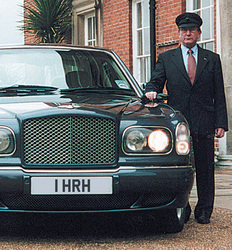 (PRWEB) January 31, 2009
The UK car registration 1 HRH was sold today at an auction sale held at Whittlebury Hall, Towcester, Northamptonshire for an impressive £113,815 (including commission,VAT and transfer costs). 1 HRH is the latest in a recent stream of exclusive private number plates to be bought for spectacularly high prices, despite the current uncertain economic climate.
1 HRH has been the subject of significant media attention, with some commentators speculating that it might be a suitable car registration for a member of the British royal family, or for a foreign prince who might own cars in this country. Experts in the private number plates industry, however, dismissed this as rather unlikely. In the event, the number was purchased by an unnamed telephone bidder.
The sale, held by Scottish Motor Auctions Ltd on behalf of DVLA, is taking place over the three days from 28th to 30th January 2009. In addition to 1 HRH, great interest is being shown in the numbers 1 O and 3 S. With a reserve of £10,000, most pundits predict that 1 O will sell for a significantly higher price than 1 HRH.
1 O goes under the hammer on the morning of Friday 30th January.
###