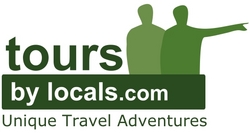 While you can always ask about a guide's price, it's better to negotiate on the duration and content of the tour. Our customers know that the money they pay goes directly to the guide, so a tour's features are a more comfortable basis for negotiation
Vancouver, British Columbia, Canada (Vocus) December 30, 2009
Given a choice between a group tour and a private tour almost every traveler would prefer to take the private tour – if they could afford it.
This was the situation facing Tad Brown, personal trainer and travel planner from Los Angeles, California as he was organizing a Mediterranean cruise for some of his best clients.
As Brown says "My clients are active travelers and I wanted the customized service that a private tour could offer. I was pleasantly surprised when I booked a ToursByLocals tour of Malta at a cost of $380 for my group of 6. The only group tour offered by Norwegian Cruise Lines would have cost me $450 and we'd be stuck on a big bus with 50 other people".
The price consideration can work out with smaller groups as well. For example, a ToursByLocals one day Rio de Janeiro tour for 3 people prices out at only $20 more than the group tour offered by Viator. According to company President Paul Melhus, "For most travelers, an extra $7 per person is worth it for the personal service and to avoid the common complaint of 'too much time spent picking up other passengers'.
In the developing world, price is even less of a concern. In Luxor, Egypt a single person can have a private tour of the west bank for a half day with transportation and a trained Egyptologist at a cost of only $60. In Thailand, you can have a 4 hour, private Bangkok tour of the city with a local, English speaking guide for a cost of $40. And the guide can accommodate 2 people.
If you travel in the off-season, even in the developed world, prices can be quite affordable. Normally, St. Petersburg, Russia is not a cheap place to visit. But an 8 hour St. Petersburg tour for 4 people is only $171 for the entire group - if you take it from November to March. And generally, private guides are much more amenable to negotiation during the off-season. Paul Melhus offers the following advice – "While you can always ask about a guide's price, it's better to negotiate on the duration and content of the tour. Our customers know that the money they pay goes directly to the guide, so a tour's features are a more comfortable basis for negotiation".
Travelers can check out the company's tour offerings at the company website, ToursByLocals.com. The company has been operating for just over 1 year and currently has 447 active guides and over 1041 tours on their system, located throughout the world. They are adding new guides and tours on a daily basis.
About ToursByLocals:
Launched in November, 2008, ToursByLocals.com helps travelers get a better travel experience while directly benefiting the people who provide those travel experiences. Our traveler customers want to do unique things, experience the reality of a place and its culture through the eyes of a local person. They have a sense of adventure, are socially conscious and want to see their travel spending directly benefit the people who live in the communities they visit.
Our tour guides want to earn income by providing the experiences travelers are looking for. They are entrepreneurial, passionate people who are proud of the place they live in. We serve those already in the travel industry as well as people who may not have been able to participate before.
We provide these services through ToursByLocals.com. The website offers a convenient way for tour guides to promote their travel services, tours and availability and creates a platform for travelers to search for suitable tours and find out how other travelers rated them. We handle the marketing of the tours, the booking process, payment processing, customer service and forwarding of money onto the guides which enables our guides to focus on delivering high quality, personalized tours which can be customized entirely to your needs and specifications.
###