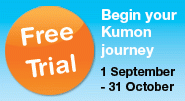 Kumon has become an integral part of our lives and had a positive, lasting effect on the girls.
(PRWEB) September 14, 2011
Leading supplementary education provider Kumon Educational UK is offering a two-week free trial between 1 September and 31 October 2011. This is an opportunity for children of all ages to experience Kumon's unique maths and English programmes for free at their local study centre. Parents will also gain a valuable insight into how the programmes can develop their child's independent study skills.
Kumon offers individualised maths and English study programmes that are tailored to the needs of each child. Through daily practice and repetition, students build their confidence, improve their concentration and gain effective study skills that will enhance their ability to self-learn. Through Kumon study, each child can develop an attitude to learning that enables them to overcome obstacles and succeed in life.
Alyson Smith, mother of Kumon students Leanne and Olivia, says:
"Kumon has become an integral part of our lives and had a positive, lasting effect on the girls. We have really seen their academic and personal skills develop since starting their Kumon study. Their confidence has also grown and they aren't afraid to work hard; now they persevere with exercises until the task is completed. As we all know, this is a key skill in adulthood too and one that will help them to lead successful and fulfilling lives."
The Kumon method of learning was developed in 1954 by Toru Kumon, a parent and gifted teacher from Japan. Like any parent, Toru wanted the best education for his son and began devising a teaching method using worksheets in the core subject of maths. Soon word spread of his success, and now there are over 4 million children worldwide studying the Kumon maths and English programmes. Over 60,000 students study at more than 625 study centres across the UK and Ireland.
By enrolling at their local Kumon Study Centre between 1 September and 31 October parents can take advantage of the two week Free Trial and see how Kumon study can benefit their child.
For news, competitions and to keep up to date with Kumon's activities, please Like Kumon's Facebook page.
NOTES TO EDITORS

Kumon is the leading supplementary education provider in the UK and Ireland offering maths and English study programmes
The Kumon method of learning was developed in 1954 by Toru Kumon, a parent and gifted teacher from Japan
There are more than 60,000 Kumon students learning at over 625 study centres across the UK and Ireland, with over four million students worldwide
Kumon aims to provide children with long-term foundations in reading, writing and arithmetic
Kumon fees vary; initial registration and the monthly single subject fee are around £25 and £52 per child, respectively. Dual subject fees, for students on both the maths and English programmes, are around £90 per month, per child, provided both subjects are studied at the same study centre
In 2008 the Kumon Group celebrated its 50th Anniversary
In 2011 Kumon UK celebrates its 20th Anniversary
###