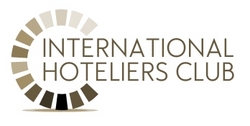 We are pleased The International Hoteliers Club membership is now open to hotel owners, B&B owners and general managers in North America and worldwide
New York, NY (Vocus) September 20, 2010
The International Hoteliers Club (IHC) – http://www.internationalhoteliersclub.com – launched today and is exclusively for the hotelier community, including resort and hotel owners, bed & breakfast owners and hotel general managers of two to five-star properties. The web-based Club provides access to an international forum for communication and discussion among members, provides the latest news and articles related to the hospitality industry, and allows easy exchange of complimentary room nights. IHC offers extremely affordable membership fees – between $2 and $4 per month depending on length of time chosen for membership.
Hoteliers joining the web-based club create a member profile page and can browse online the global list of destinations offered by other members. After browsing a list of destinations, members can post a Public Exchange Request in the destination's Exchange Board that is visible for all members in the selected city or region. The Private Exchange Request function allows a request to be sent directly to a particular member. Although members may exchange an unlimited number of complimentary room stays, users have the right to accept or refuse exchange requests.
Additional benefits of IHC membership include the ability to stay up-to-date with the latest news and articles related to the hospitality industry on the Club's Board, contribute to an existing discussion, post experiences, or start a new discussion on a particular topic relevant to the hospitality industry. IHC also allows members to exchange unlimited complimentary room stays with other IHC members throughout the world, eliminating the need to pay for hotel rooms while traveling. IHC members have open access to all profiles worldwide with no geographic limitations and a full membership fee refund is available if the Club member is not satisfied with membership. Exchange dates are flexible and users may indicate preferred dates or simply accept an exchange request and decide on dates later. Members may allow someone else to use their room exchange however the exchange partner (other hotelier) must first be given the name of the person who will be occupying the complimentary room.
"We are pleased The International Hoteliers Club membership is now open to hotel owners, B&B owners and general managers in North America and worldwide," said Kamal Bouskri, founder of The International Hoteliers Club and General Manager of Riad Kniza, a luxury boutique hotel in Marrakech, Morocco. "What started as an exchange of complimentary hotel rooms between friends has evolved into an exclusive online membership club where hotel owners, B&B owners and general managers can easily communicate with each other, receive the latest hospitality industry news, and exchange unlimited complimentary room stays."
There are no additional hidden fees for members joining IHC – only the nominal membership fee is required.
For a limited time, The International Hoteliers Club is offering introductory membership fees as follows:

1 year membership: $49.00 U.S.
3 year membership: $99.00 U.S.
5 year membership: $149.00 U.S.
Visit http://www.internationalhoteliersclub.com for more information.
Media Contact:
Ria Romano, Partner
RPR Public Relations, Inc.
Tel. 786-290-6413
###