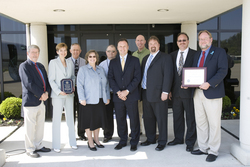 Because of what our Repair Station found in the past, Cessna is making safer aircraft in the future.
Cincinnati, OH (Vocus) May 14, 2008
Executive Jet® Management (EJM), a leading provider of worldwide private jet charter and aircraft management services, has received recognition from the Federal Aviation Administration (FAA).
Michelle Schopp, Director of Technical Services at EJM, received FAA's "Good Friend" award at a special ceremony held at EJM's headquarters at Lunken Airport in Cincinnati, OH on April 23, 2008. The award, presented by Debra Joiner, Manager of the FAA's Cincinnati Flight Standards District Office (FSDO), was in recognition of Ms. Schopp's ground breaking work on the Electronic Flight Bag (EFB) program. Said Ms. Joiner, "Michelle has done a tremendous amount of work and accomplished things that no one else has been able to accomplish." In a letter written by Frederick T. Walker, Manager, Flight Standards Division of the FAA's Central Region, both Ms. Schopp and Executive Jet Management were recognized for the "exceptional contributions made to the mission of the Flight Standards Office concerning the issue of Electronic Flight Bag (EFB) devices." As a result of these efforts, the FAA Flight Standards Division has new EFB authorization guidance which is being implemented nationwide.
At the same ceremony, EJM's Repair Station received a "Certificate of Appreciation" for its contributions to aviation safety through the Service Difficulty Reporting (SDR) program. This program provides a communications vehicle where specific safety issues are identified and submitted to the FAA and can result in Safety Recommendations made to aircraft manufacturers. Debra Joiner said, "implementation of Safety Recommendations (first identified by EJM) resulted in safety changes affecting the entire industry."
Accepting on behalf of EJM were Benjamin J. Murray, President and CEO, Jim Bergman, Cessna Citation Program Manager and Al Luken, Chief Inspector. "(The SDR program) makes Executive Jet Management better and the industry better," said Bergman. "Because of what our Repair Station found in the past, Cessna is making safer aircraft in the future."
Murray said, "Being recognized by the FAA affirms the emphasis we place on high quality standards for all our employees. We are very proud of Michelle's achievements and of all the members of the EJM maintenance team."
Executive Jet Management is a wholly owned subsidiary of NetJets Inc., a Berkshire Hathaway company. A leading provider of worldwide jet charter and aircraft management services, Executive Jet Management manages aircraft in over 60 locations throughout the country to meet the growing demand for jet charter services. Drawing on more than 40 years of experience, Executive Jet Management is dedicated to the highest level of safety, security and service.
For its eleventh consecutive year, Executive Jet Management earned the "Best Charter Service" award from Professional Pilot magazine subscribers. This award is a reflection of the company's continued focus on customer service. Executive Jet Management has also been recognized as a "Best of the Best" air charter company for the third straight year, in the 2007 Robb Report Luxury Portfolio issue.
For additional information about Executive Jet Management's Charter Services, call 877-356-5387. For Aircraft Management services, call 800-451-2822. Visit the corporate website at http://www.ExecutiveJetManagement.com .
Contact:
Peter Landesman
Executive Jet Management
513-979-6748
plandesman@ejmjets.com
###