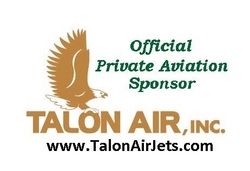 We are pleased to welcome Talon Air, Inc. as the Official Private Aviation Sponsor of the Far Hills Race Meeting
Farmingdale, NY (PRWEB) October 17, 2009
Talon Air, Inc., a leader in luxury private air charter and management offering safety, convenience and unparalleled amenities, is proud to participate as the first-ever Official Private Aviation Sponsor of the Far Hills Race Meeting.
"We are pleased to welcome Talon Air, Inc. as the Official Private Aviation Sponsor of the Far Hills Race Meeting," said Guy Torsilieri, co-Chair of the Far Hills Race Association and President of the National Steeplechase Association.
"Their support of this event ensures further success for the Far Hills Race Meeting and its beneficiary Somerset Medical Center."
The Far Hills Race Meeting, now in its 89th year, is one of the nation's premier steeplechase horseracing events, drawing 50,000+ spectators annually to Moorland Farms in Far Hills, NJ. Regulated by the National Steeplechase Association this prestigious Steeplechase Championship is a tradition held every October, to enable participants to experience a part of horseracing culture and to obtain the procurement of necessary funding to advance cancer treatments at the Steeplechase Cancer Center.
The Steeplechase Cancer Center is a three-story, $28 million 63,000-square-foot outpatient facility located within Somerset Medical Center in Somerville, NJ. Its purpose is to provide comprehensive cancer services of the highest quality and to help patients regain control of their health within a "calm, compassionate, patient-focused environment." The Center offers the latest technologies and radiation oncology services, educational medical research teams and complementary medicine programs, all working together in the fight against cancer, including: infusion therapy, tai chi, meditation, yoga, reiki, massage and image recovery. Each patient's treatment is guided by a multidisciplinary team that continually reviews and updates treatment protocols for the foremost common types of cancer (breast, colorectal, prostate and lung).
The Steeplechase Cancer Center is accredited by the American College of Surgeons and is recognized as a certified Comprehensive Community Cancer Center. Offering the Sanofi-aventis U.S. Breast Care Program, patients and their families may also choose to utilize the Sanofi-aventis U.S. Wellness Boutique and the Resource Library -- staffed by an American Cancer Society-trained volunteer -- as well as the nutritional counseling services practiced within the facility.
As Official Private Aviation Sponsor to one of the nation's most highly-regarded steeplechase races, Talon Air, Inc. proudly recognizes their cancer facility's history -- named in honor of the Far Hills Race Meeting. Since the 1950's, the race meeting has raised more than $17 million for the Somerset Medical Center. Aviation Specialists from Talon Air, Inc.'s recently-opened New York City sales office will be located within the main tent in the infield to meet-and-greet the attendees of this very special event. Information on the company may be found online at http://www.TalonAirJets.com
"We are pleased to be recognized as an official contributing entity to the Far Hills Race Meeting in support of Somerset Medical's Steeplechase Cancer Center," said Adam Katz, President & Founder of Talon Air, Inc.
He continued "When one of our Aviation Consultants arranged for our introduction to Patti Tegenborg, Event Coordinator, Far Hills Race Meeting and Guy Torsilieri, President, National Steeplechase Association, we did not need much convincing to realize the unique opportunity that their event offers Talon as a high-end, services company -- especially considering the fact that there has never before been an 'Official Private Aviation Sponsor' associated with the Steeplechase Championships in New Jersey.
"As a Farmingdale, NY-based operation, our fleet of 18 private aircraft fly in-and-out of Morristown, Teteboro and other local regions of New Jersey, New York and Connecticut for our clients, just as they do the rest of the nation and the globe.
"We are looking forward to the races and mingling with other sponsors, horse owners and guests in support of this great cause."
Included in Talon's Sponsorship package this year, the Far Hills Race Meeting will be part of the National Steeplechase Association's U.S. Steeplechase Championships debut, featuring live, five-hour television broadcast by NBC Universal Sports -- reaching a viewership of over 56 million households. In addition, streaming-live broadcast will be available online on the Far Hills Race Meeting website. http://www.FarHillsRace.org Talon's sponsorship will also be recognized on the Far Hills Race Meeting's website as the "Official Private Aviation Sponsor" as well as on banners inside the racetrack and via periodical video advertisements on this year's Sony jumbotrons that will be posted near the judge's tower of the U.S. Steeplechase Championships.
ABOUT THE U.S. STEEPLECHASE CHAMPIONSHIPS:
The U.S. Steeplechase Championships features a series of 12 races contesting for $700,000 in purses. The first race is scheduled for Far Hills at 12:45 p.m. followed by a race about 20-minutes later at the International Gold Cup at Great Meadows in The Plains, Virginia. Races will run on an alternating basis between the two meets throughout the day. The Far Hills Race Meeting's six races are headlines by the Grade I Grand National, which has a purse of $250,000. Premier novices, three-year-olds and fillies and mares will compete in the event's five other stakes races along with the best open hurdlers in the sport. Two-time defending champion, Good Night Shirt, is slated to run, as well as Pierrot Lunaire, who upset the champ at Nashville this past spring.
Moorlands Farms' grounds open to the public at 8 a.m. General admission tickets are $50 in-advance or $100 at the gate. Parking passes are $30. A limited number of reserved parking spaces are also available. For more information, call: 908-685-2929. Tickets may be purchased online or at more than 65 ticket-sale locations throughout New York and New Jersey. To buy tickets or for a list of ticket-sale locations, visit: http://www.farhillsrace.org
ABOUT TALON AIR, INC.
Talon Air is a private-owned, on-demand, luxury air charter and management company that owns and operates a late-model fleet consisting of 18 aircraft (each at the average age of 2-years new), and offers unparalleled consistency in tail numbers and full-time pilots. With as little as an hour's notice, clients can travel to any destination around the globe in luxurious comfort and with the security that they are flying with the leading award-winning crew in air safety. Talon Air is and will continue to be the highest-quality private aircraft charter and management company in the world, guaranteeing the safest, most efficient, cost-effective and pleasurable travel experience.
Talon Air, Inc. is based at Republic Airport in Farmingdale, New York and operates 18 aircraft with redesigned cabins and state-of-the-art avionics. For additional information call: 1-888-TALONAIR or visit: http://www.talonairjets.com
# # #