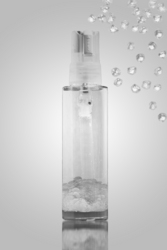 Now customers can have an upscale natural deodorant under their brand of choice.
(PRWEB) February 3, 2011
Verdan, the premier private label manufacturer of crystal deodorant, announced the availability of their new patented natural deodorant spray formula for private labeling. The new private label natural deodorant spray offers customers the opportunity to expand their product line with an upscale deodorant which is all-natural, and goes on clear and clean. The deodorant spray, made of 100% natural Kalunite minerals, provides clinically proven 24 hour odor prevention and is completely invisible on the skin.
The natural deodorant is formulated by micronizing Kalunite minerals to achieve a higher concentration of active ingredients and guarantee maximum efficacy. Plus, the effectiveness is further enhanced by an extra reserve of mineral crystals that protect against unpleasant body odor without white and oily residue or irritation. The new spray deodorant forms a transparent layer of microscopic minerals undetectable to your sight, touch and scent, yet it keeps you smelling fresh and feeling clean all day long.
"For over 30 years Verdan has been manufacturing crystal deodorant for leading health and beauty brands throughout the World," said Francis Verdan, founder of Verdan. "Now, by launching our patented natural deodorant spray for private labeling, customers can have an upscale natural deodorant under their brand of choice."
In addition to the 100% natural and paraben-free deodorant spray, Verdan offers a complete line of private label crystal deodorant, including a handcrafted and polished deodorant stone and a crystal deodorant stick accompanied with a push-up applicator. All Verdan private label crystal deodorants are made of 100% natural potassium alum (rock form). Plus, they are all paraben-free and contain no synthetic alum or aluminum chlorohydrate.
The natural deodorant spray is a great complement to an already successful beauty or personal care brand or product line, or an effective entrant into a new product category for retailers of all sizes. The complete line of Verdan private label crystal deodorant is developed in-house, and can be pre-packaged, pre-labeled, and shipped directly to the customer ready to hit the retail shelves. Additionally, Verdan offers custom manufacturing solutions for all your crystal deodorant and potassium alum product needs.
About Verdan
Verdan is a leading supplier of natural potassium alum to the health and beauty industry, and a premier contract manufacturer of crystal deodorant. For more than 30 years, Verdan has been providing clients worldwide with exceptional service and the highest quality all-natural crystal deodorant that provides 24 hour invisible odor protection without the need of synthetic ingredients or chemical agents. For more information please visit us at http://www.verdan.com.
###