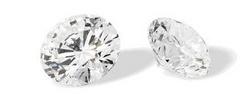 LONDON (PRWEB) December 9, 2008
Diamonds are considered the ultimate luxury, but with prices starting from as little at £343 (RRP £1,115) for a White Round Brilliant Diamond of 0.30 Carat, this is most glamorous take on the credit crunch yet. The range includes a large selection of cuts including classic Brilliant Round and Emerald. These prices reflect a discount of between 50% and 70% from standard retail prices for diamonds, yet the stock is of the highest quality available.
Each diamond carries full certification from the International Gemological Institute (the world's largest gem certification and appraisal institution) guaranteeing its authenticity and quality, and will be delivered directly from Anvers by FEDEX and can be used for anything, from jewellery to something as simple as an investment piece.
Brandalley.co.uk is an online retailer of designer fashion, beauty and homeware, offering consumers up to 70% off retail prices.
The company was founded by internet magnate Sven Lung who conquered the luxury online market in France and noticed a gap in the UK market for online private sales, bringing the concept to the UK in early 2008.
Notes to editors:
About BrandAlley
BrandAlley initially launched in France in July 2005. It is one of Europe's premiere e-tailers of prestigious brands. It specialises in ventes privées – members only, private sales which last a limited length of time (usually between 2-4 days) - offering members access to great brands at incredible prices.
BrandAlley.com is now the number two private sales business in France, receiving 1.8m visitors per month and has 1.3m members, to whom it ships more than 40,000 products per month from its 4000m2 stock warehouse. Between December 2006 and December 2007, it saw a 500% increase in sales.
BrandAlley UK (BrandAlley.co.uk) is a subsidiary of BrandAlley France, which will cater exclusively for the UK market. Launched in January 2008, BrandAlley's unique member-get-member online boutique focuses on short term, high end private sales, offering incredible value on premium designer fashion brands.
Once invited and registered, customers receive email reminders about forthcoming sales. No spam, just exclusive invites to the sales. Customers then login and enjoy shopping. The sales usually last up to 4 days and are open from 7am on the start day until midnight on the final day, allowing you access to the sale at a time that suits you.
MULTIMEDIA GALLERY http://www.businesswire.com/cgi-bin/mmg.cgi?eid=5849357