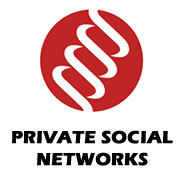 According to a Specialist at a Leading Hospital St Luke's In New York City – "This is a must have for all
hospitals. Every healthcare organization is going to have to do this"
FRISCO, Texas (PRWEB) October 02, 2012
Private Social Networks® (http://www.PSN.net) announced today that it has been selected as 1 of only 12 chosen to present at Southern California's most prestigious Medical Device and Investment Forum October 10th and 11th in Irvine, California.
"It is an honor to be selected out of so many companies as one of OCTANe's top12 choices and the only one with a Healthcare IT offering to present our innovative social media platform for Healthcare – the first and only HIPPA-compliant cloud-based platform enabling collaboration, communication and education across the entire continuum of care." said CEO Len Chermack.
PSN, the developer of Connect2Health®, a device independent, integrated HIPAA (Health Insurance Portability and Accountability Act) compliant, secured, Software-as-a-Service private cloud solution that uses social media features to enable hospitals, public health agencies, medical device manufacturers and other essential healthcare providers to communicate securely and directly with patients, families and caregivers while adhering to government mandates and timelines.
As the Department of Health and Human Services begins to crack down on HIPAA violations with their announcement of HIPAA audits and fines ranging from $250,000 to over one million for violations, Connect2Health® is the right solution to keep companies compliant while engaging with their clients in a secure community.
"Private Social Networks timing could not be better, our solution addresses the core component of the HIPAA mandate for patient privacy protection and does so in a secure, compliant, hospital or Medical Device branded SaaS platform that can be delivered immediately;" Chermack said.
Other Private Social Networks products include: Connect2Thought®, Connect2Learn®, and Connect2Cause® and can be paired with Connect2Health®. "Our device independent technology provides access to the critical healthcare information those members in a community need said Roy Gum, a former Silicon Valley executive, Co-Founder, and CTO of Private Social Networks who developed the product after a personal family experience.
For more information about Private Social Networks, please check out their website at http://www.psn.net or call 214-855-5555.