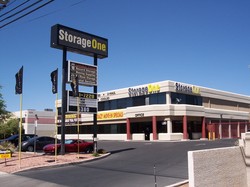 The Self Storage Industry continues to perform as a solid real estate investment
Las Vegas, NV (PRWEB) September 23, 2008
EBS announced the acquisition of Storage One at 6380 Annie Oakley Drive, in Las Vegas, NV. The Storage One facility was purchased for $4.85 Million and was leveraged at just over 71% with the assumption of an existing conduit (CMBS) loan. The interest rate was reported to be in the low 5% range.
The Storage One facility adds 415 Air Conditioned storage units, 50 non-climate controlled units, and 28 RV parking spaces totaling nearly 112,000 net rentable square feet to the EBS portfolio. This brings EBS' holdings in the Las Vegas/Henderson markets to a total of eight facilities. EBS owns nearly 60 facilities nationwide.
"The weak housing market and the subsequent household downsizing to apartments has resulted in the strongest demand in the storage market that we have seen in Las Vegas in nearly a decade," states Eric Kaplan, COO of Equity Based Services, Inc.
"The Self Storage Industry continues to perform as a solid real estate investment," states Troy Downing, Principal Equity Based Services, Inc. "According to recent data, the Self Storage Sector has outperformed both the MSCI US REIT Index and the S&P 500 for the last two years. Our sources indicate that publicly traded self storage companies have outperformed the REIT index by 14% in the last 2 years and 13% in the last year. They also beat the S&P 500 by 11% over the last 12 months. Even in the face of a tough lending market, we expect our portfolio of Self Storage properties to outperform the broader markets."
EBS uses capital from its existing base of High Net Worth Individual investors, Institutional Investors, IRS Rule 1031 Exchange investors, and closed Private Equity funds to purchase Self Storage facilities.
The Storage One facility will be rebranded under the American Mini Storage brand and will be aggressively managed by EBS' in-house property management company, All American Property Management, Inc. (AAPMI).
About Equity Based Services, Inc
EBS is a Private Real Estate Company specializing in the acquisition and management of self-storage property. EBS currently owns and operates nearly 60 Self-Storage properties in 10 states with a current market value of more than $300 Million. EBS also manages a family of Private Equity Funds for institutional and high net worth individual investors. The EBS Income Fund, the EBS Income and Growth Fund II, and the Pilot Equity Value Added Fund all closed in 2007. For more information, contact Kurt Ambrosius at 619-220-6700.
This Press Release is for informational purposes only and does not, in any way, constitute an offering to buy or sell securities.
###