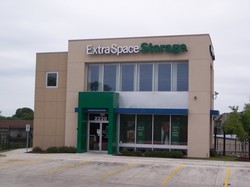 reports about the credit industry, but, EBS continues to prove that there are still loan dollars available for quality projects and we believe that this correction has enabled the strong to survive while forcing out those who probably shouldn't have been in this industry in the first place
San Diego, CA (PRWEB) August 11, 2008
Equity Based Services, Inc. ("EBS") announced that it has closed on the purchase of Extra Space Self Storage in Austin, Texas today. This is the tenth EBS acquisition this year and the third acquisition in Texas within the last ten days.
EBS purchases both stabilized and "Value-Add" properties for its portfolio by leveraging cash from its 400-plus cash investors, IRS Rule 1031 Exchange Investors, and closed Private Equity Funds. In general, a stabilized property is leveraged by 80% and a Value-Add property by 75%.
"This was a strategic acquisition in a dynamic market. Extra Space is the 3rd property EBS has acquired in Texas this month. We expect to close on four more assets in Texas prior to the end of September. The Texas economy is rapidly expanding and we are well poised to benefit from the growth," stated Stephen R. Kaplan, CEO, Equity Based Services, Inc.
Extra Space Self Storage is located at 2314 East Riverside Drive in Austin, TX. This is about 2.5 miles south of downtown Austin. East Riverside Drive is a 4-lane road that affords excellent visibility and a high traffic count. The facility adds 625 storage units (both climate controlled and non-climate controlled) to the EBS portfolio.
"This is a great economic stabilization project in a great area," states Troy Downing, principal and EBS Fund Manager. "We have a lot of confidence in Austin and believe that we will quickly bring this facility to a stabilized, maximum economic occupancy and realize explosive growth in value over the next 24 months."
Downing continues, "EBS has by far the best property management team and the best property management systems in the self-storage industry. This allows Eric Kaplan, COO of All American Property Management, Inc. ("AAPMI") to quickly deploy his managers, regional managers, and systems experts to take over a project within hours of recording the purchase. AAPMI has consistently and methodically outpaced the industry in taking over and stabilizing projects allowing EBS to realize the maximum potential of a facility in a minimum amount of time."
EBS will re-brand Extra Space Self Storage under its American Mini Storage name. American Mini Storage has become synonymous with clean, secure, and well managed self storage facilities in strong and growing communities.
The leverage for this project was facilitated by Tavernier Capital Partners through a large European Lender. Specifics for the loan were not released, but EBS has announced that this was a high leverage deal with a floating interest rate based upon LIBOR that includes a significant interest-only period. Interest-only loans allow operators to stabilize property without having to fund substantial interest reserves and allows them to pay debt service through cash flow from the project. In general, when the interest-only period expires, the project is generally ready for refinancing will cash flow paying the debt service on a fully amortized loan.
"The lending market has become much tighter and lenders are much more selective about both projects and sponsors. We keep reading all of the "doom and gloom" reports about the credit industry, but, EBS continues to prove that there are still loan dollars available for quality projects and we believe that this correction has enabled the strong to survive while forcing out those who probably shouldn't have been in this industry in the first place," states Downing.
About Equity Based Services, Inc.:
EBS is a private real estate company specializing in the opportunistic acquisition and management of self-storage commercial property. EBS currently owns and operates approximately 60 Self-Storage properties in 10 states with a market value well exceeding $250 Million. EBS also manages a family of equity funds for institutional and high net worth individual investors. EBS Funds invest in both stabilized income producing commercial property and value added, opportunistic commercial real estate. The EBS Income Fund, the EBS Income and Growth Fund II, and the Pilot Equity Value Added Fund all closed in 2007 and represent more than $16 Million in capital contributions. All portfolio properties are aggressively managed by All American Property Management, Inc., an EBS company, to maximize returns to Investors. For more information, contact Katie Raden at 619-220-6700.
This Press Release is for general informational purposes only and does not, in any way, constitute an offering to buy or sell securities.
###